Welcome to this edition of the Glee Round Table!
Following another outstanding episode of this show, our writers are excited to get together and analyze various aspects of "Vitamin D." From Ken's proposal to the competing genders, let's get right to it...
Will Emma really marry Ken?
A. Cheerio: I hope not, for one simple reason: it's better to be alone for the right reasons than be with someone for the wrong reasons.
BerryTalented: I doubt it, and this development upset me, but how funny was her acceptance??? She's marry Ken, as long as she can keep her own name; live alone; and not see him outside of school. I love Emma!
FinnFan: No. You gotta figure Will is gonna leave Terri for Emma for some point (I certainly would!) and how many divorces can one show feature?!?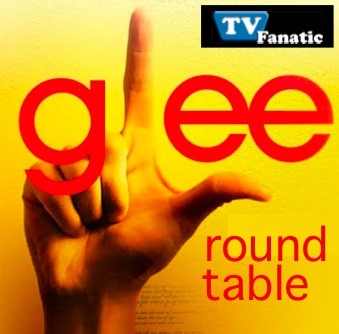 Who won: The boys or the girls?
A. Cheerio: Fans can go vote on this themselves. But I gotta give it to the girls, if only for Rachel's pre-performance quote: "If there's two things America needs right now it is sunshine and optimism... also angels."

BerryTalented: Gotta show the guys some love here. They set the bar so high that they forced the girls to try and meet it. The women almost did, but their routine didn't match the example set originally.

FinnFan: All I know is that society lost. I can't believe high school students are now following the lead of morally corupt baseball players and taking performance enhancing drugs. It's tragic. (Just kidding: the boys totally won!)

What was your favorite Sue Sylvester quote of the night?
A. Cheerio: Her lack of enthusiasm for being named co-director of the glee club: " I can't wait to start singing and dancing and maybe even putting on the Ritz a little bit."

BerryTalented: Her take on motherhood: "I always thought the desire to procreate showed deep personal weakness."

FinnFan: Any time she refers to Emma by the wrong name, I lose it: "Ellen, that blouse is just insane."

Will Quinn really give Terri her baby?
A. Cheerio: I hope so. And then I hope Terri skips town with it, so Will can end up with Emma.

BerryTalented: No way! This storyline is way too twisted all around. I think Puck will help Quinn raise the child.

FinnFan: Yes? No? I just wanna see fewer pregnancies and more singing!

Matt Richenthal is the Editor in Chief of TV Fanatic. Follow him on Twitter and on Google+.

Tags: Glee, Round Tables