Welcome, Gossip Girl fans, to the Gossip Girl Insider Round Table!
As the Rufus Getting Married" include memorable lines, surprising twists, dubious plot holes, the enigma that is Carter and next week's promo ...
~~~~~~~~~~~~~~~~~~~~~~~~~~~~~~~
1. What was your favorite Gossip Girl quote from the episode?

LovelyLively: Georgina nonchalantly admitting that she drugged poor Scott into telling her his life story. Michelle Trachtenberg is so awesome.
Gossip Guy: Oh man, I loved all of Blair's snide comments in front of Bree at dim sum. Like about Southerners' penchant for slavery. LOL.
Mister Meester: My inner cheeseball is going with Rufus' "we leap" speech, Lily's confession that Rufus is "the best man and father I have ever known," and Scott tearfully pleading for his parents to be together. Sorry guys. I'm lame.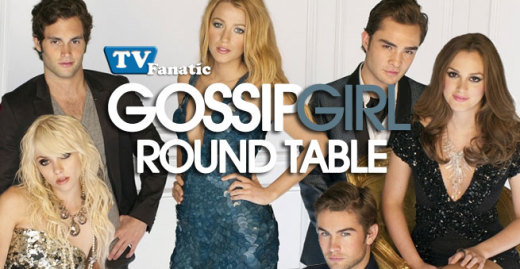 2. Was this the best episode of the season so far?

LovelyLively: I'd have to say so. The four previous episodes culminated in a great one last night. It had humor, romance, deception, and Georgina being delightfully, bat$h!t insane. Talk about loving to hate someone. Also, kudos to the writers for Carter's story line being so much better than last season's.
Mister Meester: Yes. Because it was entertaining from beginning to end with little filler, people actually acted like they had brains, several important story lines were wrapped up, and next week was teased in exciting fashion.
Gossip Guy: Duh, of course. My man Rufus finally got back his pair from season one and locked that $h!t down.
3. Biggest surprise: Vanessa being one of the "good" guys, Scott actually bringing his parents together, or Dorota taking down Georgina?
LovelyLively: Scott, in a pleasant way. Rufus and Lily can be boring, secondary characters, but I loved how Scott, whose mere existence drove them apart last season, ended up bringing them together for good this time.
Gossip Guy: OMG, when I saw Dorota at the end of the episode I was laughing my ass off. And seriously? Vanessa being a best anything? Eww.
Mister Meester: Not just Dorota. Dorota and her doorman BF Vanya teaming up to take down G. Best. Plot. Twist. Ever. I wish we got to see them brainstorm this with Blair and possibly Chuck, but it worked great out of the blue, too.
4. Do you like Carter Baizen?
Gossip Guy: You know what doesn't sit right? A guy that dated a woman in the past for money is now dating Serena, daughter of Lily van der Woodsen Bass Humphrey. Two out of three of those last names smell like money to me.
Mister Meester: Amazingly I do. Chuck was right, he took a lot of risk showing up at the wedding, proving he really does care about Serena. It's funny to find yourself rooting for such a slime ball, but I sure will be next week!
LovelyLively: No way. How can you trust that guy after what we've seen and what he admits he did? There are probably even shadier things he won't cop to.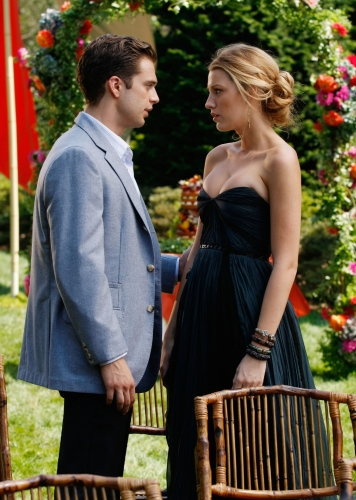 Should Serena trust Carter after all this?


5. Hardest to believe: Olivia's screen name being just Olivia, Serena hiding from her mom at Eleanor's penthouse, Rufus and Lily having no adult friends at their own wedding (not even Eleanor or CeCe)?

Gossip Guy: Yeah, seriously, where were all of Rufus and Lily's adult friends? I mean I know we haven't seen Eleanor since Season 2, but I'd like to think an episode this special could have the budget to bring back at least a few of her best friends, or at least her own mom.

Mister Meester: Olivia's screen name. Do you think Hilary Duff's is just Hilary? They could have had more fun with that one. On a side note, I like to think Blair's is "QueenB4Eva," Nate's is "ManBangs420" and Chuck's is "ImChuckBass."

LovelyLively: It is unclear why Serena was at Blair's mom's, but living arrangements have always been right behind NYC geography on the list of things Gossip Girl cannot make fully believable. Rufus and Lily having no friends, though? Hey, people are busy, and they had less than one day's notice!

BONUS QUESTION: Next week's promo looks interesting, to say the least. What do you predict will happen?

Mister Meester: Who would have guessed Chair's sexy games from the season premiere would backfire. I'm just hopeful they're able to get past this snafu.

Gossip Guy: WTH Chuck?

LovelyLively: Carter's a$$ is on the line in a high-stakes card game. My guess is Serena and/or Nate, out for revenge against Bree, save the day and Mr. Baizen.

In regard to Chuck kissing a guy ... I leave that to our readers. LOL.

~~~~~~~~~~~~~~~~~~~~~~~~~~~~~~~

What is your take on these hot Gossip Girl topics? Leave a comment with your answer(s). We want to know what you think!


Steve Marsi is the Managing Editor of TV Fanatic. Follow him on Google+ or email him here.

Tags: Gossip Girl, Round Tables