Darryl Van Horne seems to have it in for Bun Waverly on Eastwick.
But why? What has the Head of the Eastwick Historical Society done to deserve this?
In a new interview with TV Guide Magazine, Veronica Cartwright - who starred in the 1987 movie The Witches of Eastwick - dishe on her character and on the ABC series. A few excerpts:
On Bun: We find out she's actually a witch, which she doesn't know at this point; she lost her memory of it. As we go along, more and more things will be revealed, like Eleanor Rougemont, another witch and Bun were the Roxy, Joanna and Kat of their generation. Now the cycle is starting over again, so it gets really interesting.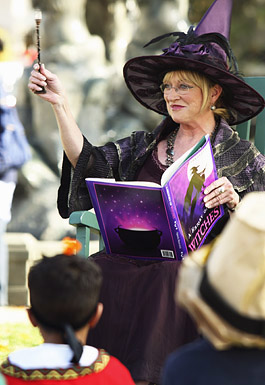 On the introduction of the third witch: I don't want to reveal everything, but, yes, the third witch [will be] made known.

On Roxy, Joanna and Kat: We have a huge Halloween show [airing October 28] with coffins and bonfires and rain, a kidnapping and attempted murder. Things happen that the girls don't understand;it's just mind-boggling. They start realizing they have powers and it comes out in Episode 8 that they're [witches].

Matt Richenthal is the Editor in Chief of TV Fanatic. Follow him on Twitter and on Google+.

Tags: Eastwick, Interviews