Last night on 30 Rock, Liz and Pete set out to stack the deck in favor of their top choice to join the cast of TGS. Tracy and Jenna set out to stop them at any cost.
Jack Donaghy? He got a case of the bed bugs and found himself ostracized from the elite layer of society he lives in. He begged for compassion on the subway!
In the end, the story lines intertwined as Jack found what he was looking for - acceptance from a stranger - and TGS got a new cast member. A robot mime guy.
Probably the best things about this episode were that Jenna had some great lines, unexpectedly, and Dot Com's late bid for a spot on the cast. Classic 30 Rock.
It was also funny to see Jack so out of his element, even if the show basically ran with the same joke throughout. "Audition Day" was old school in that sense.
Follow the link for a recap of "Audition Day." As always, we've done our best to compile classic 30 Rock quotes from last night's episode. Some of the best lines: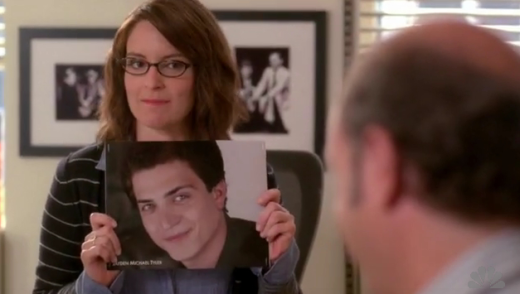 Liz Lemon's top choice for TGS, Jayden Michael Tyler, didn't exactly pan out.

Tracy: [to Liz] Was describing your sandwich in detail necessary to our understanding of what happened? | permalink
Liz: My mom used to send me articles about how older virgins are considered good luck in Mexico. | permalink
Pete: The more people you add, the less effective it is. Like a neighborhood dad garage band. | permalink
Kenneth: [on bed bugs] Looks like you got a bad case of the chew-daddies. Ozark kisses? The woodsman's companion? | permalink
Jenna: It's going to be a disaster! Like Katrina! Do you remember Katrina, that crazy girl from hair and make-up? | permalink
Jenna: Liz, I need to speak with you. Beat it, Grizz or Dot com. | permalink
Liz: In my defense, I didn't know that Cathy Geiss was going to finish her song by taking off her underpants. | permalink
Jack: That's what I'm talking about, empathy. It's about as useless as the Winter Olympics ... This February on NBC. | permalink
Jenna: Black people, I know I've said a lot of terrible things about you in print, but I come here today on a mission of peace. | permalink
Jack: I'm already not liking some of these people. It reminds me of being on the bus. | permalink
Janitor: For my first character, I'd like to do a janitor who has finally had enough and stabs everyone. | permalink
Steve Marsi is the Managing Editor of TV Fanatic. Follow him on Google+ or email him here.

Tags: 30 Rock, Reviews
Want more 30 Rock?
Sign up for our daily newsletter and receive the latest tv news delivered to your inbox for free!
More From TV Fanatic
On Perception, Daniel and Kate investigate an art heist. Also, Daniel must make a decision about his love life.
Things on Pretty Little Liars looked pretty darn bleak this week as Hanna's friends started to get sick of her but Zack couldn't get enough. Read the review for more insight into the latest installment!
Evan, Paige and Bob confront Russel about his rug theft, while Divya and Jeremiah treat a woman desiring to be a mom. But were those all the surprises the Hamptons had to offer? Read our review of "I Didn't See That Coming" now!
On Chasing Life, Leo makes wishes come true. Elsewhere, Brenna meets her other sister, discovering one more family secret. Read on for more!
---