White Collar Review: "Book of Hours"
at . Comments
White Collar hasn't lost its steam to keep us engaged and wanting more. This week in, "Book of Hours" our guys are hanging around some interesting mob types.
The "Book of Hours" is actually a very old and priceless Bible that the head mob guy had stolen from him. This guy does an alright job of playing a mob guy, but a mob boss? C'mon! We were expecting to see a James Gandolfini look-a-like from The Sopranos. I guess those days have come and gone and they aren't the same as they use to be. He did have that sweet endearing quality to him that makes us fall in love with The Godfather types.
Neal is still as hot as ever - especially how he is the only one on the whole FBI squad that wears a fedora - and boy does he wear that fedora well! Not only is this fine man good looking - but smart to boot! He is able to figure out what a whole team of FBI agents could not - that the real criminal mastermind is none other than a local historian lady. Who would've guessed!?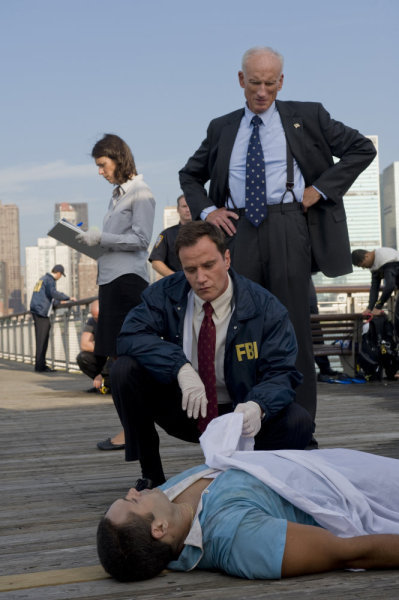 We are happy to report that Elizabeth is getting more involved with the crime solving. She plays the sexy, wifey at home, with all the answers - quite well! We hope to see more of her and maybe some steamy scene's with Mr. Burke? Better yet, with Neal?! Oh, a girl can only dream!
This episode ends with another clue to Neal's ex-girlfriends whereabouts. She is definitely trying to tell him something, but what? And why so secretive? Can't she just text? Email? AIM/MSN/GCHAT?! I guess we need to keep tuning in to see how this story unfolds!
We leave you guys with a couple of our favorite quotes from "Book of Hours." What was your favorite line from last night's episode? Let us know! Comment Below!
FBI agent: I need a cigarette after that pat down. | permalink
Elizabeth: (To Neal) Why don't you just ask her out?
Peter: Good point. (To Neal) Do you think it will work?
Elizabeth: (Without hesitation) Yes!| permalink
Peter: A woman? A regular Cindiana Jones? | permalink
FBI agent: I think we have a technical problem
Peter: That's one way of putting it. | permalink
Tags: White Collar, Reviews
Want more White Collar?
Sign up for our daily newsletter and receive the latest tv news delivered to your inbox for free!
More From TV Fanatic
On tonight's Gang Related, Ryan was forced to make a difficult decision. Which side did he chose?
On the latest episode of Satisfaction Neil learns an important lesson about being honest with himself from Adriana while Grace struggles on her new job. Read on for analysis.
Oliver turns down extending his contract as Acting Staff Sergeant until Duncan's dismissal hearing turns unpredictable on Rookie Blue.
On tonight's The Bridge, Marco is made an offer that he initially refuses. Will he agree to go after Fausto?
---