Last night's mid-season finale of Glee didn't feel like a finale at all. That's because "Sectionals" was basically the prelude to an intermission, a dramatic conclusion to Act One.
That's because we're watching a terrific musical unfold here, and that being said, terrific musical performances and dramatic elements were both on full display Wednesday.
There's so much we could go over with "Sectionals"  that it's hard to know where to start. Here are some of the key developments (and our favorite things about them):
Rachel reveals to Finn that Quinn's baby is not his but Puck's! That's it. The pregnancy ruse was revealed. You knew it would happen. But what we didn't expect was that Quinn didn't hide from the truth, but rather embraced it.
Rachel rose to the moment. Those gold stars she believed she'd already earned were earned last night. "Don't Rain on My Parade" was a season high point.
Lea Michele's Streisand rendition killed, as Rachel had the audience on their feet and established New Directions as something special right out of the gate. More than just something special, it turns out. They won! First prize! On to Regionals!
Talk about battling through adversity. By having to rehearse on their feet and cobble together a new set list, that made the kids shine even more.
Finn also gets credit for emerging as the leader we knew he could be.
Principal Figgins grew a pair and suspended Sue! But why do we get the impression that the battle has just begun? Editor's note: Maybe because she said, "You just woke a sleeping giant. Prepare to be crushed."
Finally, the kiss. THE KISS. Will and Emma. Wemma!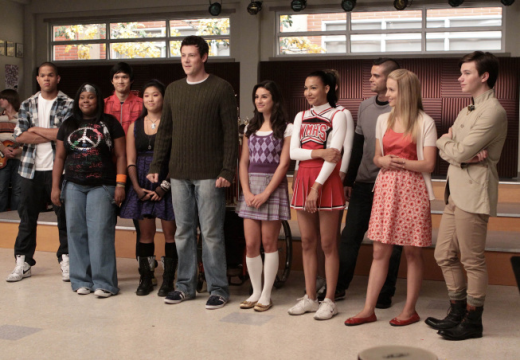 That was quite a way to go out, and as devastating it is that the show won't return from its extended intermission for several months, it ended on just the right note last night.
After all, you gotta give people what they want - and leave them wanting more, right? Right. What was your favorite part of last night? Share with us below!
Here are some of our favorite Glee quotes from the episode:
Principal Figgins: Sue, that is an orgy of evidence stacked against you! | permalink
Rachel: You're amazing, Mercedes, and you deserve it. I'm gonna hug you now. | permalink
Will: But the wedding is on Saturday. Your wedding.
Emma: I know. We just pushed it back a few hours. Now it doesn't have to happen in broad daylight. | permalink
Sue: Get ready for the ride of your life Will Schuester. You're about to board the Sue Sylvester Express. Destination horror! | permalink
Rachel: [to Quinn] I'm so sorry. I fully understand if you want to beat me up. Just avoid my nose. | permalink
Sue: You'll be adding revenge to the long list of things you're no good at, right next to being married, running a high school glee club and finding a hairstyle that doesn't look like a lesbian. | permalink
Emma: We've got a problem. They're doing all our numbers - the kids are completely freaking out. Artie keeps ramming himself into the wall and I'm pretty sure Jacob will just wet himself. | permalink
What did you think of last night's Glee?





Steve Marsi is the Managing Editor of TV Fanatic. Follow him on Google+ or email him here.

Tags: Glee, Reviews