The way Jennifer Carpenter talks about the sesaon four finale of Dexter, it will be a disappointment if the TV landscape isn't altered forever after December 12.
The actress that plays Deb is already on record as saying that "everything changes" at the conclusion of this season. But she went even further in her hype this week.
Speaking to E! News, Carpenter addressed fans and said:
"All the time you put in [episodes] one through 11 watching the show, you'll be glad that you did in 12. Everybody matters in the end. Everybody matters. We all had to be there to shoot the finale."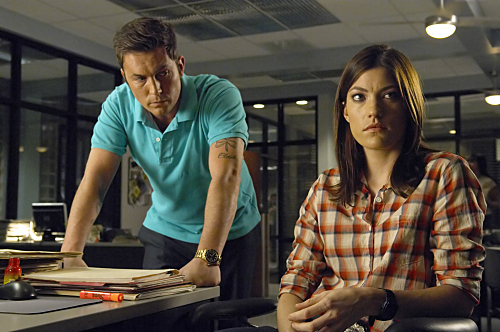 So, what exactly can viewers expect? Carpenter was mum on specific spoilers, but did open up more in the interview...

On how the finale leads into season five: "This season it ended and everybody said, 'Well, what can't we do next year?' I know the mold is sort of breaking and that's an exciting thing. I think people are kind of getting comfortable sitting in their living rooms with a serial killer, and my hope is to make him more dangerous."

On Deb discovering Dexter's mom: "They've been sort of unraveling that cord for four years now, so I can't say that anything is finished. That's sort of the brilliance of the finale and the twisted psyche of our writers. It's sort of epic and vast, and it all counts."

Matt Richenthal is the Editor in Chief of TV Fanatic. Follow him on Twitter and on Google+.

Tags: Dexter, Interviews, Spoilers