We must face the sad truth: every single primetime show is on hiatus until 2010. Before the calendar turns, however, let's take a look back.
So far, the TV Fanatic staff has reviewed the ups and downs of The Vampire Diaries, 90210, House, Heroes, The Good Wife and NCIS in our mid-season report cards.
In this edition: Melrose Place.
Best character: Ella Simms. This is not simply because she wears low-cut dresses and, as proven last episode, black lingerie. Katie Cassidy has taken the bitchy baton from Heather Locklear and run with is like Usain Bolt. The show has still managed to depict a soft side to Ella, however, as her feelings for Jonah appear to be actually sincere. We're excited to watch these two as a couple next month.
Worst character: Violet Foster. She's played by Ashlee Simpson. Need we say more? Fortunately, this "actress" won't be a member of the Melrose Place cast for much longer.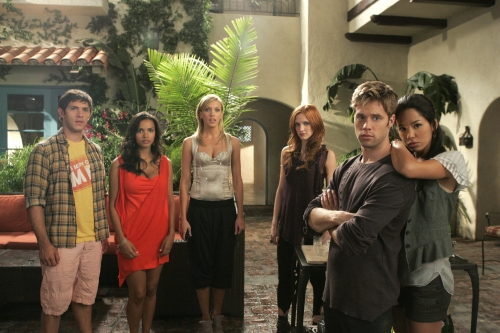 Best storyline: Sydney's murder. Granted, it sort of trickled toward a conclusion - and many viewers weren't happy with the culprit - but Sydney's death created an instant hook for viewers in the pilot. It made it feel like The CW had a solid reason for bringing the show back, while also providing former characters such as Jane with a sensible reason to return for an episode.

Honorable mention: Lauren's two jobs. It's not easy to serve as a doctor by day and moonlight as a hooker at night... without once changing your facial expression.

Grade so far: B.

Hopes for 2010: Ella topless; more death; more sex; more ridiculous behavior; Ella bottomless; a love interest for Amanda.

Agree with our assessment? Our grade? How would you rate the first half of the first season of Melrose Place?

Matt Richenthal is the Editor in Chief of TV Fanatic. Follow him on Twitter and on Google+.

Tags: Melrose Place, TV Fanatic Report Cards, Reviews