Allison Mack Interview: What's Next for Chloe on Smallville?
by Matt Richenthal at .
In a new interview with TV Guide, Allison Mack doesn't waste any time delivering some major Smallville spoilers. To wit:
Oliver and Chloe will develop a major spark over the next few weeks.
How so? And in what way will this bond be different from what we've seen between Lois and Clark? Read the full interview now and check out a few excerpts from it below:
On Oliver and Chloe: It's a really interesting dynamic because both are aware that the most important thing is their mission in the world, not their relationships. They have a very strained and secretive relationship, which is similar to Clark and Lois, but they don't have the softness or the romance that Clark and Lois have.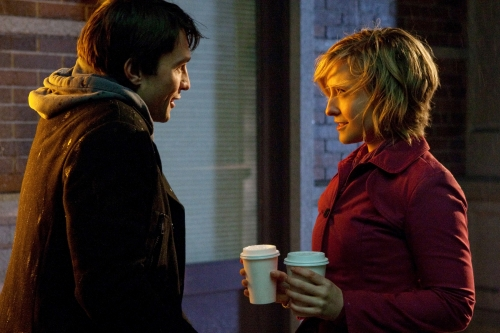 Allison Mack and guest star Carlo Marks in a scene from "Warrior."

On Clark and Chloe: They're working towards the same mission, they have the same ideals, but their journey, their path and their choices to actualize those missions are very different... which puts a really interesting divide between the two characters and allows them some great dramatic tension.

On Chloe's mindset for the rest of the season: I think Chloe is really exploring that question, "Do the ends justify the means?" Because I think Chloe is at a place right now that she sees how bad the world is and sees the need for some really dramatic and drastic decisions.

She's struggling to decide whether or not what she needs to sacrifice is worth what she needs to save.

Matt Richenthal is the Editor in Chief of TV Fanatic. Follow him on Twitter and on Google+.

Tags: Smallville, Interviews
Related Stories