TV Fanatic Works Better with Prime Instant Video
Smallville Episode Guide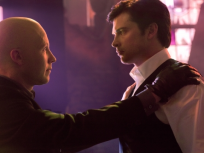 Lex is back! Smallville wraps up its series with this two-hour, exciting finale of an episode.
Clark is ready to take the last step toward becoming the Man of Steel. Are you ready to bid farewell to Smallville?
In the penultimate episode of Smallville, Clark takes Lois to the Fortress to get Jor-El's blessing for their marriage.
Tess learns that General Slade was found unconscious on a street corner, proof that someone has gained access to the Phantom Zone's escape portal and sent him back.
Ready to meet Booster Gold? Smallville introduces this character this week. He's played by Eric Martsolf.
This return episode takes place in an alternate world. It features the return of Jonathan Kent.
It's Lionel vs. Tess this week! They battle over the Luthor name.
Zatanna drugs Lois and Clark this week. Look for Lois and Oliver to then run into a casino owner who accuses them of stealing money.
Chloe and Oliver get kidnapped this week, while the former is in danger of being infected with darkness. Elsewhere, Lois suggests a disguise for Clark.
Lois and Martha have it out on national TV this week. Elsewhere, Lionel reveals himself to the world.