In our review of "The Pasadena Primary," we discussed how last night's Brothers & Sisters was heavy on humor and family dynamics and light on sweeping drama.
Below, TV Fanatic's staff members analyze some of Sunday evening's many developments in further detail in our weekly Brothers & Sisters Round Table ...
1. What was your favorite scene last night?
The Barnacle: Sarah and Roy in the back of the Smart Car ... and the motel. Who knew normally straight-arrow Sarah had that wild side to her? Cougar-iffic!
L.J. Gibbs: Kitty standing up for Kevin at the reunion. Not because he's gay or needs protection, per se, but because that's what big sisters do. Kitty rules.
M.L. House: Nora and Robert arguing at the restaurant. I loved how even though she voted yes on Kitty's run, she lied by omission and let him sweat it out.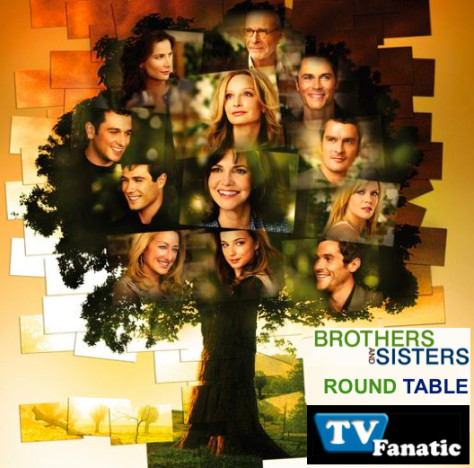 2. Do you prefer Roy or Luc as a love interest for Sarah?


M.L. House: Luc, provided he's seen Spinal Tap ... which we somehow doubt. Roy, then, because at least he probably owns a TV. There's also underrated chemistry there, I think.

L.J. Gibbs: Roy. He's nice, has a job, can relate to life as a single parent, and come on. For the first time, a 7.5 isn't as bad as they're making it sound. What if it had been a 3.5?

The Barnacle: Luc. Sorry Roy. Maybe if you work out more, you can look like Gilles Marini shirtless. Also, work on a European accent of some kind. Until then, thanks for playing!

3. Would you have voted yes or no in Kitty's dining room primary?


The Barnacle: My mind says no but my body says yes. Okay ... that made little sense and was unnecessarily dirty. What I mean is that as much as it might be practical for her to sit it out, Kitty has always been a very driven individual and this just makes sense.

M.L. House: Yes. Cancer will focus group well, as will the McAllister name and Kitty's strong will, plus her independent streak. Punch Sen. McAllister 2.0's ticket to D.C. now!

L.J. Gibbs: A reluctant yes. Politics is in Kitty's blood, and you can't just flip a switch and make her a stay-at-home mom. Still, I worry about her marriage and little Evan.

4. Did Holly sleep with Dennis?


The Barnacle: Afraid so. Her tears at the end say it all, do they not?

M.L. House: I don't want to believe it, but that's the implication, right? I cringed when Dennis said, "I want the same deal that William got." So uncomfortable. She and David getting married is wonderful, though. I just hope they go through with it.

L.J. Gibbs: No idea honestly. What I'm more intrigued by is whether she's really going to sell her shares - and to whom, Dennis York or the Walkers? I've never been the biggest Holly fan but am getting sucked into this developing story line.

Steve Marsi is the Managing Editor of TV Fanatic. Follow him on Google+ or email him here.

Tags: Brothers & Sisters, Round Tables