Welcome to this return edition of the 90210 Round Table!
Like the show itself, we're back with our latest take on the most recent episode of 90210. What did you think of "Rats & Heroes?" Did it satisfy your craving for Naomi, Adrianna and company? Or did it leave you wanting more?
Below, our staff comments on a number of developments and asks for reader feedback. Check out the 90210 music heard this week and comment on the following topics...
React to the Adrianna/Gia relationship.
M.L. House: I'm glad it's not an actual relationship yet. I was afraid the show would have these two make out and be an item right away, as advertised. But at least the first kiss was done more as a favor on Adrianna's part and maybe they'll give these two time to actually develop.
Dr. Shepherd: The producers can say whatever they want, but this is a ratings stunt, plain and simple. I'm sorry, but straight high school girls don't suddenly develop feelings for the same sex simply because a girl can relate to their situation. It's insulting to gay people.
The Barnacle: How do I feel about two girls kissing? Just fine, thank you!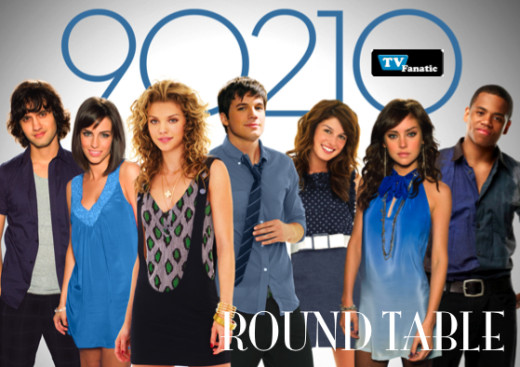 Who is your favorite couple on the show?
M.L. House: Liam and Naomi. Without getting too personal, I can actually relate to them. Who out there has not come across somebody with whom you can't hold a conversation, but with whom you can hold up against the wall and... you get the idea.

Dr. Shepherd: Annie and Jasper. Simply because they're the most interesting. I wish the show had revealed Jasper's truly creepy, blackmailing side earlier, but I like him as a shady character.

The Barnacle: I actually dig Harry and Debbie. They're fun-loving and seemingly still into each other, even after all this time. Then again, will Debbie's yoga teacher soon be into her... literally?

How cool is Ivy?!?
M.L. House: I've thought she was awesome ever since she had carefree sex with Liam in his basement. This chill, relaxed surfer chick needs a man that truly appreciates her.

Dr. Shepherd: Very cool. Wouldn't her and Dixon make a good couple? Both like to surf and Dixon could use a laid back girlfriend, following all his drama with Silver.

The Barnacle: She'd be cool if she were a dude. But I'd be intimidated to date a girl with that low a voice, who was that good at surfing.

Both Rob Estes and Jennie Garth are exiting the series. Who will you miss more?
M.L. House: Estes. A staple of the original series was how one parental unit was together, stable and happy. Assuming Harry and Debbie get a divorce, it will be a shame when this stops being the case on the new show.

Dr. Shepherd: Garth. The returns of Brenda and Donna felt forced, but Kelly has fit in smoothly at West Beverly. I've also liked the chemistry she has with Ryan. Will be sad when she's never seen walking the halls again.

The Barnacle: Garth. She's a lot more fun to look at.

Matt Richenthal is the Editor in Chief of TV Fanatic. Follow him on Twitter and on Google+.

Tags: 90210, Round Tables