While past episodes of Caprica had dealt with weighty issues such as religion, politics, science and public perception, "Know Thy Enemy" was more of a straightforward, dramatic showcase.
It felt more like an episode of a primetime soap opera, but we mean that in the best sense of the term.
We were introduced to John Pyper-Ferguson (a Battlestar Galactica alum), who played Daniel's chief rival, Tomas Vergis. Like other Taurons (Sam and Joseph, mainly) we've met, Vergis carries himself with a quiet dignity. Also, he doesn't exactly mince his words, at least not when the situation calls for bluntness.
That episode-concluding scene was one of the most suspenseful in show history, as Vergis told Daniel: My dream is to tear up your dream... until the debt is paid."
Creepy, great stuff. As if Daniel didn't already have enough to deal with, between his rivalry with the Adamas, the death of his daughter and the production of the Cylons.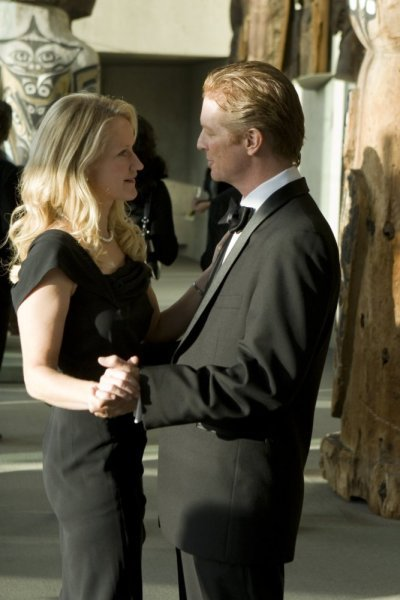 Most of the episode laid the groundwork for what's ahead.

We met Barnabus (James Marsters), who seems to be the violent head of a separate faction of the STO. Claire, conversely, hopes to keep things peaceful... though she's not above underhanded maneuvers (praying on a grieving mother, really, Claire?!?) to get her way.

We also saw Zoe start up a romance in the V world, which makes sense when you think about: that lab tech (Philomon) may be annoying, but he's the only person to really acknowledge her inside as a robot.

Then there was Joseph's successful identification of Tad, the boy who knows Tamara from Cap City. He could barely contain his excitement over tracking that kid down.

Overall, a solid episode that makes us look forward to many more. What did you think of it?

Matt Richenthal is the Editor in Chief of TV Fanatic. Follow him on Twitter and on Google+.

Tags: Caprica, Reviews