This is a busy time in the professional life of Dana Delany.
The actress likely exited Wisteria Lane on Sunday night, as Katherine skipped off to Paris with Julie Benz's Robin. If her ABC pilot gets picked up, that will be the last Desperate Housewives' viewers see of the character.
"If the pilot gets picked up, that'd be great," the actress told Fancast.com "If it doesn't, hopefully I'll be invited to "come back" from Paris... That's the great thing about Marc Cherry and television; you can do things at the last minute."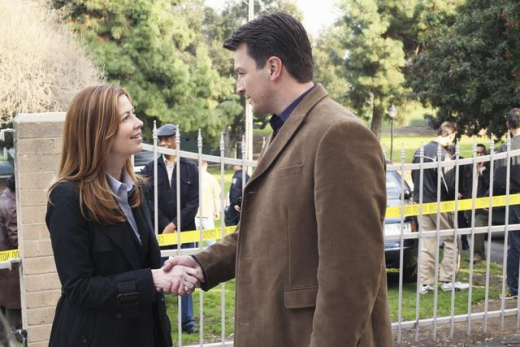 Last night, as seen above, Delany made the first of two guest appearances on an explosive episode of Castle.

Regarding her character of Jordan Shaw, Dana said: "She's there as an example to show Beckett that you actually can have it all. You can be a kick-ass agent, and you can be married and have a kid…. Beckett doesn't have to shy away from romance."

Is there more we'll learn about this detective on part two of the episode that aired last night?

"Just that she has a husband who's very supportive, and she relies on him. It's interesting because the pilot that I'm shooting now is the opposite, which I think is a little more realistic. When a woman works as many hours as Jordan Shaw does or the character I'm playing [on Body of Evidence], it takes a toll on a marriage."

Matt Richenthal is the Editor in Chief of TV Fanatic. Follow him on Twitter and on Google+.

Tags: Castle, Interviews