Last night's episode of V brought in many answers to our questions. BUT, like anything good, left us wanting to know more!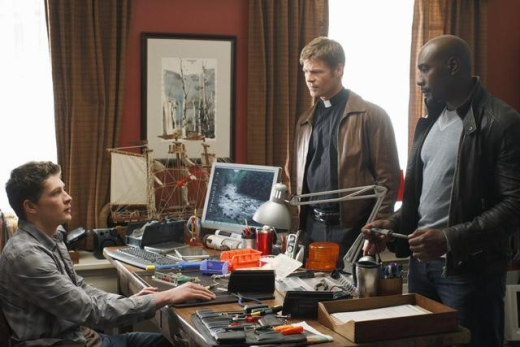 Here are a few of our favorite answers that we got from "John May":
We learned the history behind who John May was and that if it wasn't for him, Ryan wouldn't be the anti-V alien he is today. Plus, he would have never met Valerie at the funeral. John May is the reason why the resistance has the hope to destroy the V's today - even if he isn't alive to be apart of it.
Tyler learns that Joe may possibly not be his father. Erica took a paternity test and although it says that he is not, she unquestionably believes that he is. This is the reason why Joe left them so long ago. Now that Tyler knows the truth, will this be the one tie that breaks his trust with Erica?
Georgie's anger against the V's was brought about by the murder of his family. The flashbacks of the horrendous act showed us why it was so easy for him to stay strong - he definitely had a bone to pic with Anna. And it also explained why it was so easy for him to let go of his life. He was able to serve the resistance a purpose and now he can go join his family in heaven.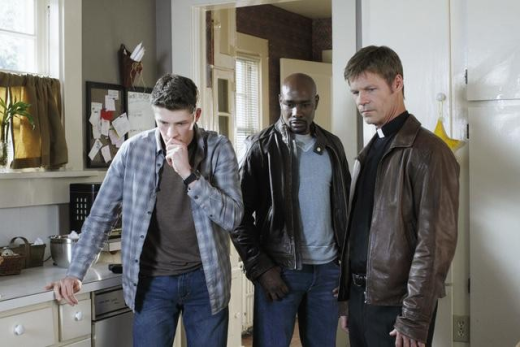 So we know that Anna is building an army to defeat the resistance, but how fast will these aliens grow? How gross was the ending when she was shown in a pool surrounded by tiny eggs? Yuck! We definitely think that she is one of the creepiest characters we have seen on TV!
The one scene that had us holding our breaths was when Valerie was able to open the lock and look inside Ryan's secret vault. We didn't know what in the world would be in it, but having the ultrasound pictures was key! Now the question is where in the world did Valerie go?!
We love this show and can't wait to see what happens next! What did you think of V last night? What was your favorite scene?
Follow the jump to read a few of our favorite V quotes from last night!
Anna: Let them have this one victory because I am about to deliver them a thousand defeats. | permalink
Anna: If we learned anything is that emotion is weakness. Love is the greatest flaw of humans and our best tool to break them. He says he misses his family, let's show him his family. | permalink
Erica: Make no mistake, we will save him. We can't loose our way every time we hit a road block, get it together. | permalink
Kyle: She wasn't human mate, so don't sweat it. | permalink
Erica: Have you leaved here long?
Grace: No I'm from L.A. So...
Erica: Oh yeah, did you go to school out there?
Grace:Yeah, UCLA.
Erica: Great football, you like football? I love the Trojans.
Grace: Me too.
Erica: The only problem is - UCLA's team was the Bruins.
Grace: I meant the Bruins.
Kyle: Opps. | permalink
Kyle: Shame - pretty girl like that. | permalink
Tags: V, Reviews
Want more V?
Sign up for our daily newsletter and receive the latest tv news delivered to your inbox for free!
More From TV Fanatic
On tonight's The Bridge, Marco is made an offer that he initially refuses. Will he agree to go after Fausto?
Things go from bad to worse for Molly on Extant as she tries to escape the prying eyes of the ISEA but chooses the worst place for safety. Read on for a full review.
Mike is on a war path, but is he headed in the right direction? Read our Graceland review of "Los Malos" now to find out!
Rachel tells Mike about the kiss as Mike struggles to pick up the pieces after his firing. Read our Suits review of "We're Done" now to find out what went down.
---