Last week, V returned to the air with an episode that garnered low ratings. If the show wishes to be renewed for a second season, it better step up its game and its popularity.
With that in mind, how did "Pound of Flesh" fare? It was hit and miss.
HIT: Valerie's pregnancy. Did you see that creepy shot of her stomach near the end of the episode? You can't say you aren't curious about this impending birth. The situation also gives Ryan more humanity.
MISS: Over-the-top Georgie. This is the same guy who, just a couple episodes, didn't want to get involved in the movement, right? Now he's pouring his soul out to Erica, saying he doesn't want to see her family suffer, and actually sacrificing himself for Ryan? Perhaps he's the kind of guy who can't help but go all in once he chooses to do something, but it felt like a sudden character transformation.
HIT: Anna as a ruthless leader. Many fans and critics have theorized that her intentions are actually good and perhaps Marcus is actually the true evil leader of the Vs. But did you catch the look on his face after Anna explained her plan to weed out those that have developed human-like emotions? Even he seems scared of her now.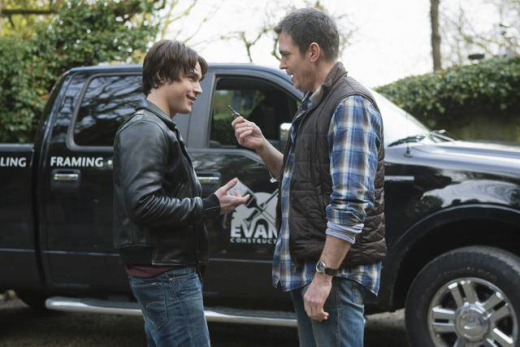 HIT: The inclusion of Tyler's father. We were certainly led to believe that he walked out on his family, weren't we? But it sounds like there's a lot more to this dynamic, all of which we're anxious to learn more about.

MISS: Joshua's message. This Fifth Column member has the most dangerous job of anyone in his group: remaining undercover while working directly for Anna. Would he really risk exposure by encrypting the "John May Lives" messages into Anna's address? Himself? From aboard the ship? Seems an easy thing to be traced back to Joshua.

HIT: The John May mystery. We'll meet this rebellious leader soon. Can't wait.

What did you think of the episode? Do you wanna see V get a second season?

Matt Richenthal is the Editor in Chief of TV Fanatic. Follow him on Twitter and on Google+.

Tags: V, Reviews