This week's episode of The Good Wife was bookended with intriguing developments, but the investigation at the center of "Mock" didn't hold our attention.
Considering the way the previous episode concluded, I was amped for an hour that centered on the Florricks, Peter's looming arrest and how this would affect the family.
Instead, this cliffhanger was resolved in the opening minutes, with Zack thinking far quicker than we did at his age. It was great to see how Peter's status is taking a toll on his kids and I was hoping for more.
But - like Eli Gold's mysterious, quick-witted partner, who appeared on the scene and then vanished - this loose end was tied up and the focus shifted to Alicia's neighbors and their deportation issues.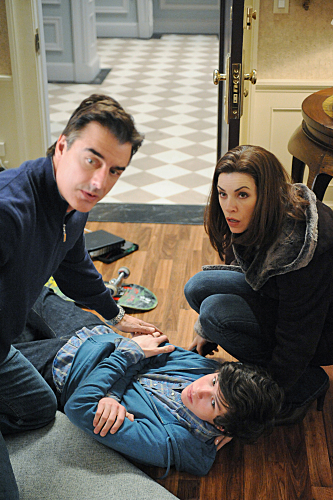 As always, The Good Wife managed to be eerily timely/relevant with its immigration investigation, but, simply put, I didn't care very much about the fate of these people. I wanted more honest Florrick family talks (loved how uncomfortable Alicia got as soon as Will's name was mentioned), or more of the competitive Cary.

It's been a pleasure to watch this character up his game with the junior associate position at stake. He isn't crossing any lines, he's just doing what's necessary for a promotion. Alicia could learn a thing or two from her competition.

Of course, she has other things to worry about. It's safe to assume Kozko killed himself, right? But it's always possible Childs got to him somehow. Alicia will likely have trouble sleeping this week, with Kozko's words hanging over her:

Help me

.

Finally, we get to Will. We can't blame the guy for moving on, can we? Especially when a young, attractive, aggressive law student throws herself at him. With Alicia giving him mixed signals, and with budgets concerns plaguing him at work, it's understandable Will might crave a distraction.

What did you think of the episode?

Matt Richenthal is the Editor in Chief of TV Fanatic. Follow him on Twitter and on Google+.

Tags: The Good Wife, Reviews