In the opinion of TV Fanatic, The Vampire Diaries earned an A+ for its inaugural season.
How might this be topped in 2010-2011? Producer Julie Plec wouldn't reveal specific spoilers, but she did give fans a lot to consider in a recent interview with Blog Talk Radio. A few excerpts from it:
Will we move closer to the formation of Delena? "The only thing I can say about them for season two, is that it's going to be a very profound triangle. Damon's still got a long way to go until he's man enough to deserve Elena. But he has a strong pull, a strong draw."
What about the presence of Katherine? Okay, Plec admits, more of a "love square."
Are Katherine and Elena related? Yes. "Our position is very much that the bloodline is the Pierce bloodline. Isobel is part of that, as is Elena. Elena looks like Katherine, they're doppelgangers. That's the big question that will continue to be asked deep into the second season."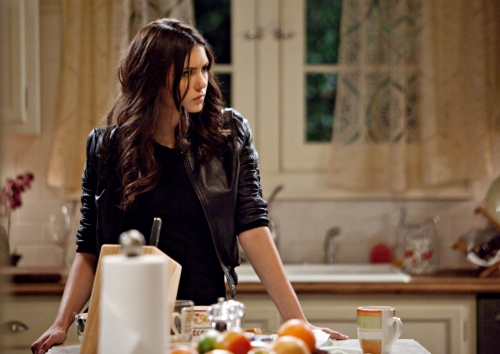 Will we learn more about Tyler and his affection for full moons? "Tyler is crucial to this mythology. The werewolf element is crucial to this story. Season two is big time about the Lockwoods, so the first thing that happens is Mrs. Lockwood steps in as interim mayor."

Is Anna really dead? Yes. "As far as we're concerned, Anna is no longer in our world. Now, there's flashbacks and all kinds of opportunities in the future, but Anna is dead."

In a funny note, Plec added that she'll sometimes pitch an idea "and [co-producer Kevin Williamson] will be like, 'No, we can't do it. True Blood just did that.'"

Matt Richenthal is the Editor in Chief of TV Fanatic. Follow him on Twitter and on Google+.

Tags: The Vampire Diaries, Interviews, Spoilers