Only on The Real Housewives of New Jersey will you find an entire episode dedicated to women trying to get other women out of their lives while obsessing over the same women.
Well, only on The Real Housewives of New Jersey, New York, Orange County, Atlanta, D.C., San Francisco, Phoenix, Chicago, Denver, Cleveland, Buffalo, Scranton, Des Moines, etc.
Welcome to Bravo's bread and butter. Last night in the Garden State, the wives talked, texted, schemed and Facebooked hard core in order to foster whatever agendas they have.
The episode title, "It's Not Me, It's You," was certainly fitting.
It was Danielle Staub's birthday and time for her "first grown-up party." We're guessing her sex tapes don't count. In any event, it is likely the most awkward grown-up party ever.
Some days later, Danielle is alone at her house, talking to herself, getting riled up about the Manzos and feigning shock that Jacqueline's daughter is hating on her on Facebook.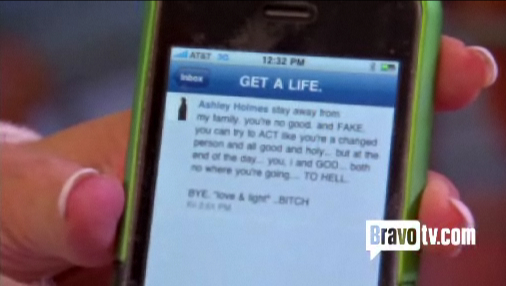 Danielle Staub is told to get a life on Facebook, and that no one likes her.

Claiming this is "highly terroristic" and "nothing short of the KKK," Daneille threatens legal action. Is this a great country or what? But Ashley turns the tables on her a little.

Sparking the "hate site" bombardment was Danielle, who told her she was fat and needed to lose weight in her arms. Wow. Ashley agrees to lay off at her mom's request.

Around five seconds later, however, she talks more $h!t about Danielle on Facebook. It's hard to blame her in a way - Danielle sucks, and she certainly has no role models.

Proving that Danielle hatred isn't just for teenagers, Dina asks Danielle to meet her to talk. She asks her protector Danny to wait in the parking lot in case she needs help.

That's generally how it goes when we have beef with our friends.

The two women begin to shush each other, point fingers and nothing gets resolved, rather, things appear to be growing steadily worse. Just how you like it if you're a fan!

Elsewhere, Teresa's daughter Gia wants to develop both her modeling and acting careers, but from the looks of it so far, her acting career will take some serious work.

She works with a dialect coach in an attempt to rid herself of her New Jersey accent. This proves to be a tough challenge for Gia and a confusing one for Teresa, as well.

 "I really don't know what a New Jersey accent is because I was born here and raised so to me I don't feel like I have a Jersey accent," she says. Like, oh my gawd.

Guess you can't recognize it if it's all you know, right?

For a far more comprehensive and humorous analysis, follow this link for the most in-depth Real Housewives of New Jersey recap of all time on our celebrity gossip site.

Steve Marsi is the Managing Editor of TV Fanatic. Follow him on Google+ or email him here.

Tags: The Real Housewives of New Jersey, Reviews