Who do Craig Thomas and Carter Bays think they are, Shonda Rhimes?
The How I Met Your Mother creators and producers, who kind of dropped the ball with a fifth season that was all over the freaking place, says season six will change ... everything.
"We'll be, from the first episode on, exploring a new saga for the characters," Bays told EW. "There's definitely going to be a big game-changing moment in [that] episode."
Moreover, they say the new season of How I Met Your Mother will be more like early ones, less like the most recent one, and nothing we've seen before. Whatever that means.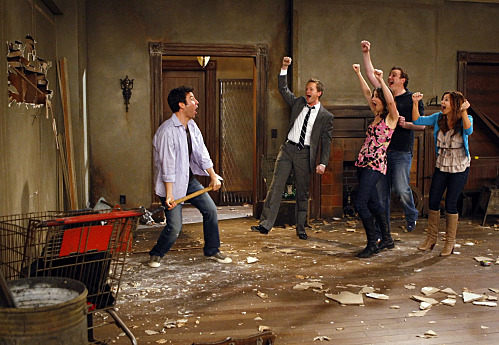 So what exactly is the game-changing moment in question? Is guest star Rachel Bilson, who reprises her role as Cindy in the premiere, involved in it somehow?

"We're taking a little trip forward ... to get a glimpse of a huge, huge day in Ted's life," Thomas says. "It's actually going to make it like a whole new story."

"If HIMYM is a three-act play, this is kind of the beginning of the third act. [In it, there's] going to be…a huge push that will lead us into the last big chapter."

"And we're going to have actual mythology," Bays adds.

"There's going to be a Minotaur ... a griffin. It's crazy."

Jokes aside, the duo is already planning the inevitable conclusion to their love story told in reverse: "We have an idea of where [the series] will end up," insists Bays.

"We're just going to have to ask the audience to trust us."

Thoughts and theories? Discuss!

Steve Marsi is the Managing Editor of TV Fanatic. Follow him on Google+ or email him here.

Tags: How I Met Your Mother, Spoilers