On the fourth season premiere of Private Practice September 23, a couple gets married.
Charlotte and Cooper got engaged in May's season finale, but will they tie the knot?
Follow the jump to see if it's them or another Private Practice pair, plus the details ...
Violet and Pete
are actually the ones walking down the aisle!
The show picks up several weeks after Dell's death in the Season 3 finale and finds the newly reconciled lovers joining for a beautiful, last-minute wedding in a rose garden, which the cast filmed Tuesday at the Huntington Gardens in Pasadena, Calif.
"As far as I can tell, it's amazing sex. They have this rockin' sex and the next thing you know, Pete is saying, 'Hey, let's get married,'" Tim Daly joked to TV Guide.
Jokes aside, is it too soon for them?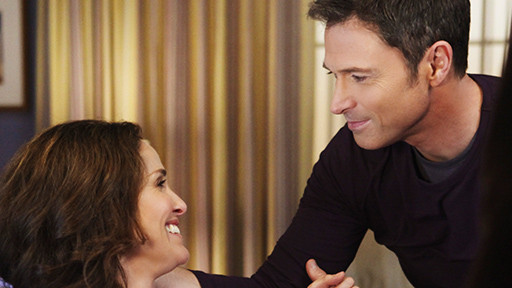 Daly notes that people, on TV and in real life, do dramatic things after tragedies: "The characters have been through so much stuff that has been so dramatic, so once they finally broke through and set down all their weapons, they realize they actually love each other."

"I've known this dude for 12 years and we've been through so much, so I would imagine it would go very fast," adds Amy Brenneman. "That said, it is also true that Violet has never wanted to get married, just like she never wanted to be a mother."

Violet's jitters create a Runaway Bride moment that's only encouraged by Cooper, who holds the title of Maid of Honor. "Cooper has put some doubts in her mind about this wedding because of his own insecurities about his wedding," says Paul Adelstein.

"That's what gets worked out in the moments right after [she runs out]."

"It's funny about this because when men freak out and back out of weddings, they're these horrible pig a$$holes that are just being real jerks," muses Daly. "But when women do it, it's kind of charming and sweet. I don't get it!"

What do you think about this Private Practice wedding? Would you rather Pete and Violet not get married, or are you excited for them? Discuss!

Steve Marsi is the Managing Editor of TV Fanatic. Follow him on Google+ or email him here.

Tags: Private Practice, Spoilers