This wasn't the plan.
That's what 90210 Rebecca Sinclair admits in a new interview with Entertainment Weekly. Going into detail about the major season three spoiler that has already leaked online, the producer explains why she chose to make Teddy Montgomery gay.
In a revelation that isn't comforting to fans that fear the show often makes developments up as it goes - focusing on shock value over consistent, logical storytelling - Sinclair says Trevor Donovan's character was NOT written as gay when he first arrived.
What happened since? Why did she make this decision? Read on. Find out.
Why wait a full season to reveal Teddy's sexuality? [We wanted] to play a coming out story that features a kid we already knew. Instead of his sexuality being the first and defining characteristic, we've already gotten a chance to know Teddy before he explores his sexuality. Teddy's an athlete, he's a famous guy's son, he's blonde and hunky and yes, he also has a sexual orientation and that's a huge part of his life. In a lot of ways I think that's more interesting than Teddy is a gay athlete, a gay famous guy's son and a blonde and hunky gay gentleman.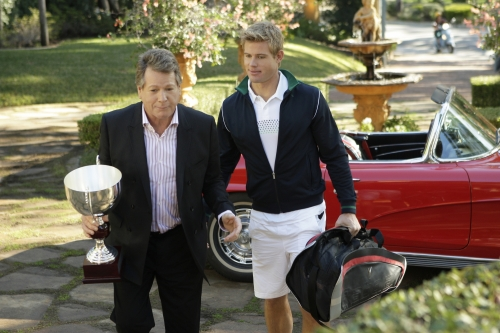 Was Teddy always meant to be gay? No. We thought he was just a womanizer. But then - and this often happens with characters - we started to wonder about the deeper life of the character. Was he a womanizer, or was he really covering for something?

How will the story unfold? As a top-tier athlete and the son of a famous - and famously womanizing - actor, Teddy has always felt the need to keep up appearances. He's had trouble reconciling the image that the world has of him with his own true sense of self. And he's worked hard to repress whatever homosexual feelings he's had.

But early on in this season, something shakes up the structure of his life. With stability and routine out the window, he has trouble repressing who he really is. He acts impulsively and ends up hooking up with a guy. So it's less of an epiphany than an impulsive act that sets things in motion.

What do you think, fans? Do these answers make you more or less excited for season three, which premieres on September 13? Visit EW for the full interview and sound off on it in our 90210 forum!

Matt Richenthal is the Editor in Chief of TV Fanatic. Follow him on Twitter and on Google+.

Tags: 90210, Interviews, Spoilers