Bachelor Pad has an interesting premise. Houseguests with larger-than-life personalities living together, competing in various challenges, and ultimately voting each other out.
The problem? We already watch Big Brother.
With a few exceptions, the 19 male and female losers of The Bachelor and The Bachelorette recycled to star on Bachelor Pad were cut loose for a reason - they weren't appealing.
We've seen them plot, flirt and cry, cause (mostly contrived) drama and hook up - on The Bachelor and The Bachelorette, this was entertaining. Here it's just a waste of time.

Do we really care if Jesse Kovacs hooked up with Elizabeth Kitt? They're rehashing old drama no one saw or cares about. Then again, at least we recall who those people are.
The other Jesse that Ali Fedotowsky cut loose? Who was that guy?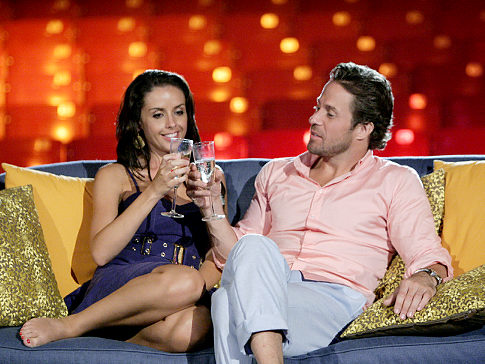 [Photo: ABC]

Don't get us wrong, there are the Kiptyn Lockes and Tenley Molzahns of the franchise who had real appeal and made it all the way to the final rose ceremonies of their seasons.

Still, one gets the feeling that their D-list fame has run its course, and everyone should just pack up and go home - or to the next Bachelor reunion cruise they hook up on.

Their eyes fixed on the $250,000 prize (mostly), the premise of the game is to compete at Twister, win safety, take three members of the opposite sex on a date, and pick one.

That person will gain safety too. Afterward, the guys vote on one girl they want to kick out and vice versa. This sets the wheels in motion, since some of them have baggage.

Craig M. wins the Twister game and takes Jessie, Gwen and Elizabeth on a date. He gives the rose to Jessie, so they're safe. The rest of the gang is immediately sweating.

Juan and Jesse K., in particular, may be done in by their previous hookups with the female contestants. In the end it is Juan who gets the boot - along with crazy Michelle.

It is hard to imagine love taking hold in this format. It's also hard to imagine us caring enough to keep watching, especially when the episodes are two hours. TWO HOURS.

Good Lord.

Steve Marsi is the Managing Editor of TV Fanatic. Follow him on Google+ or email him here.

Tags: Bachelor Pad, Reviews