Showtime debuted a new series this week, The Big C.
Really, though, it ought to be titled The Big P, as in: The Big Platform... for Laura Linney.
A three-time Oscar nominee, the actress is rarely considered one of the most talented in the business, but I can only hope that changes after her performance in this cancer-based dramedy.
The pilot episode quickly introduces us to Linney's Cathy Jamison, a school teacher and mother of one who has lived for years as the boring, conservative rock in her marriage to Oliver Platt's Paul. But she recently kicked him out of the house for an immature act and is set on breaking free from her cautious mold.
"I don't wanna be the one to pick out a new couch. I wanna be the one to spill the fruit punch," she tells Paul during an attempt to reconcile.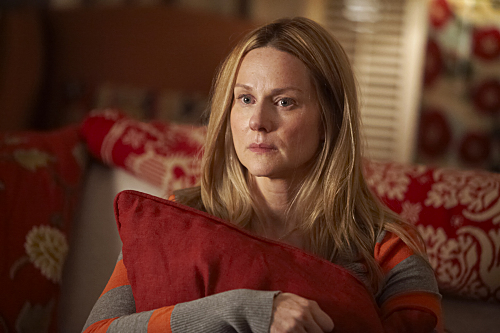 Linney is faced with the challenge of creating a character that isn't simply a victim of a deadly disease, nor one that is so flippant about her fate that viewers can't sympathize with her at all. It's a fine line.

But in a scene near the end of the episode, Cathy's laughter quickly morphs into tears and Linney proves how adept she can be at a range of emotions. This is far from a one-note performance, as Cathy is angry, sarcastic, bitter, calm and hilarious all within the show's first half hour.

A cancer diagnosis causing one to re-evaluate one's life is far from unoriginal material in life or even on TV (see White, Walter on Breaking Bad) - and The Big C does fall into cliche territory a few times, such as when Cathy doesn't feel sexy or when the supposedly bitter old neighbor turns out to be a sensitive human being (we all remember Home Alone, right?).

However, Linney's portrayal makes it worthwhile on its own. So does her character's unique, close bond to her doctor, played by Reid Scott of

My Boys

fame. It's a relationship unlike any other I can think of on TV.

I also have faith the show will round out its supporting cast a bit, as Paul is a cartoonish slob right now; and Cathy's brother Paul - a homeless man that is against pretty much anything human beings do - comes across as the show's transparent attempt to be quirky.

Browse through a few The Big C quotes now and weigh in: Will you watch episode number-two?

Matt Richenthal is the Editor in Chief of TV Fanatic. Follow him on Twitter and on Google+.

Tags: The Big C, Reviews