"I feel despair now when I see it's Monday and I have to watch this broken-down 1994 Ford Taurus of a show again. I mean, how long is this season anyway? I swear it's been like 16 million episodes so far. It makes me want to take a swan dive off a cruise ship into the Atlantic."
- TVF intern forced to watch The Real Housewives of New Jersey 
That about sums it up.
Whereas Bethenny Getting Married always managed to endear itself to us despite its ridiculous protagonist, we are just waiting for the RHONJ to end. Every week we learn is not the season finale just eats away at us a little bit more inside. If we even stay awake.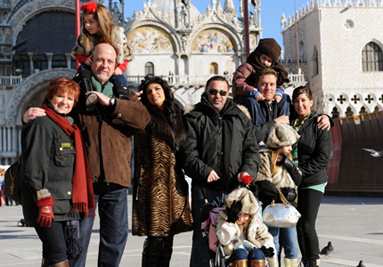 UGLY AMERICANS: New Jersey invades Italy.

Last night's big drama? Teresa's husband, Joe, explains that he was not drunk when he drove his truck off the road and flipped it. He just yawned for a second. Okay man.

Teresa is grateful her husband is safe. Danielle is gleeful upon hearing that this event happened to her biggest enemies. This is because Danielle is a horrible human being.

Honestly, this whole feud is so played out, there's little else to even say about it positively or negatively. It's all the women do, sit around at lunch and talk about each other.

Later, Jacqueline, Teresa, and Caroline plan a relaxing get-away to Italy. Not surprisingly, all their husbands agree to this non-staged planand the group jets off for Europe.

Once in Italy, the Jersey-ites spend a day touring Venice and then board a luxury cruise ship - who goes to Italy only to get on a generic cruise ship?! - for some group fun.

There are lots of mostly un-amusing antics that transpire aboard the vessel. If you wish to learn about them, see our full review of The Real Housewives of New Jersey.

Steve Marsi is the Managing Editor of TV Fanatic. Follow him on Google+ or email him here.

Tags: The Real Housewives of New Jersey, Reviews