Copying the popular pseudo-reality style of documentary shows such as The Office, My Generation follows nine high school graduates from Austin, Texas, as they move from teenagers to adults.
As someone who graduated from high school in the same year and experienced the same social and political changes over the past 10 years, I was initially intrigued by the idea. But the show's potential is sadly wasted on flat characterizations, contrived plots, and an unclear premise.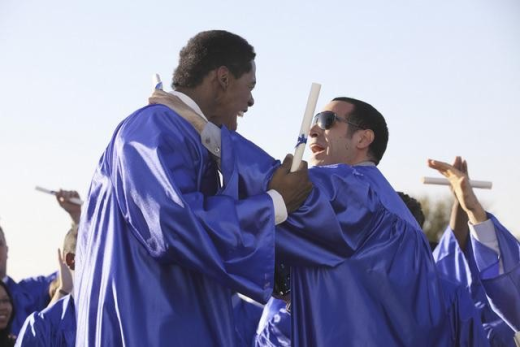 [Photo: ABC]
My first problem with the series premiere: it's a little unclear what protocol the "documentary crew" followed with this project. It appears they are checking in with the graduates a decade later because they confront each character with the major differences in his/her lives/ambitions.
However, they occasionally cut to some of the cultural, social, and political events that occurred over the past 10 years and show the direct effect these events had on the graduate's life. These clips of people like Brenda in her freshman year of college, Steven in college, or Rolly in Afghanistan make it appear as if the crew followed from high school until now.
But this isn't really the impression the graduates give when they're interviewed. It's almost like they are seeing the crew for the first time and are genuinely surprised by the changes in their paths.
Additionally, the characters are introduce via their various labels –  the jock, the nerd, the brain, etc. – and they barely rise above the behaviors expected from these stereotypes. The brain, Brenda, has fulfilled her potential in a slightly different field, but still exercises the same dedication to her work as a D.C. lawyer. The only two who move beyond these stale characterizations, Steven and Caroline, are probably going to be the main focus of the show.
Steven's daddy issues led to the loss of his ability to afford the future he wanted, and caused him to reexamine his ambitions. However, he ends up being even more self-centered than his high school counterpart. Meeting his half-Asian son for the first time, an experience he desperately avoided, Steven actually suggests, "I could teach you to be a ninja... I'm sorry. Is that racist?" Um, yeah, it kind of is. 
Being a mother pushed Caroline out of her comfort zone as a wallflower and forced her to become more assertive for her son's sake. She leaves promptly when Steven can't muster more than, "Hey slugger, I'm your dad, I guess." It doesn't appear Steven will become any more likable as a father or as a character, especially when he ends the episode drinking and dancing with a very married, and very bored, Jackie.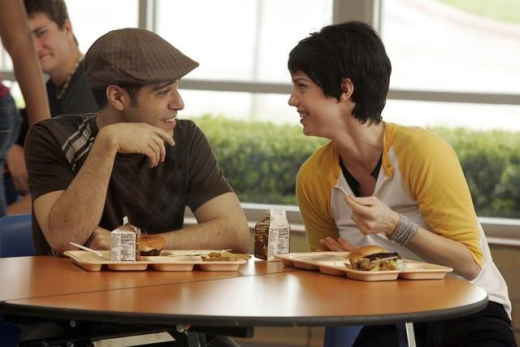 [Photo: ABC]

Anders and Brenda are supposed to be the "will they/won't they" couple of the show, but their separation and imminent reunion feel like extremely contrived plot devices. Anders was dedicated to Brenda and wanted to marry her in high school, but his father objected to the union (possibly because of her Hispanic background?). His decision to marry Jackie, a failed actress, doesn't really make sense yet since he's still clearly in love with Brenda.

Brenda has turned her attention away from relationships and into her work, but still Facebook stalks her ex. Her mother's stroke will force her back to Austin and back into the arms of her ex-boyfriend. I'm anticipating lots of angsty and tense moments between them before they finally end up together.

The only distinctive character, and coincidentally the most depressing, is Kenneth, the nerd. He lives with his former girlfriend Dawn, the punk, and she is pregnant with Rolly's (the jock) child. Kenneth still has a crush on her, and his desire to have a family makes it even more painful to watch him live with Dawn. "I'm just a nice guy," he says. Too much of a nice guy, actually.

His attempt to donate sperm and at least help other people have families ends badly when he finds out he is sterile. What's most heartbreaking is the loss of his friendship with Steven. Because of the Enron situation, Kenneth's father committed suicide and Kenneth cut off all ties with Steven. It's difficult to see where his storyline will go, but his only support, Dawn, is both helpful and hurtful.

Did you have a more positive impression of the pilot? What did you think?

Tags: My Generation, Reviews