America's Next Top Model Review: "Francesco Carrozzini"
by Kate Moon at .
This week's installment begins with a brief recap of last week's elimination, as the girls all express relief over Kacey being sent home and Ann getting the five first callouts.
The challenge this week involves the Grammy Awards. The girls are taken to the Grammy Museum, where they are greeted by Jay Maneul and Neil Portnow, the CEO of the Recording Academy.  Neil Portnow informs the girls that the winner of the challenge will get to be a "Grammy Girl," one of the pretty women who hand out trophies during the course of the ceremony.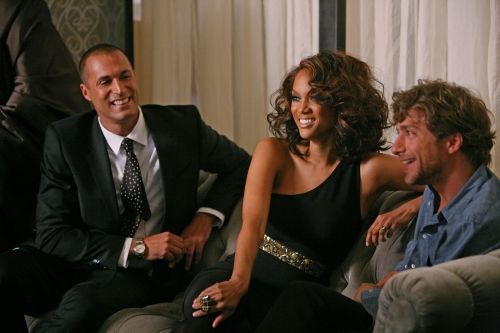 The (convoluted) challenge is kind of like musical chairs with clothes: the girls are to pair up and pick clothes for each other and dress one another in a fashion that is appropriate for this awards ceremony.

The girls go to Chic Little Devil where they attempt †o pick out clothes for their partners.  In the 10 minutes they have, the contestants attempt to please their partners, with the exception of Kayla for Liz; Kayla picks out punky style pants for Liz, who wanted a ball gown since Kayla wants to fulfill her own vision.  Meanwhile, Ann looks a bit confused and lost as she usually does when she's not... a picture.  She gets Chelsea a size 12 dress, when of course, Chelsea is a svelte 2/4. Poor Chelsea.

Kayla and Liz do quite well, looking stylish and confident; Chris and Kendal look a little too sexy; Jane and Esther are a bit too conservative; and Chelsea's dress doesn't fit too well, which causes her to lose confidence.

Kayla and Liz win as a team and Kayla wins the overall challenge. She breaks down over getting to be the Grammy Girl, while Liz fumes over not winning. In fact, she decides to drown her sorrows with lots and lots of alcohol... not exactly a winning strategy.

The girls will actually be portraying iconic fashion designers for their photoshoot, wearing the fashion of the said designer; the lesson being that models must fully immerse themselves in the fashion world. The celebrity stylist du jour is Rushka Bergman, fashion editor and stylist for Italian Vogue. The photographer is Francesco Carrozzini, who's young, and attractive - and Tyra sure agrees with me!

From there, the ladies are transformed into designers such as John Galliano, Marc Jacobs, Vera Wang, Betsey Johnson, etc.  Some of the girls aren't too familiar with some of the designers, which Jay isn't too impressed by.  Nonetheless, Liz, who admits that she knows nothing about John Galliano, receives praise during the shoot.  Kendal, who's portraying Vera Wang, looks just like... Kendal. Esther also struggles with portraying Christophe Decarnin, unable to pose in a more masculine fashion.

Kayla receives praise as Vivienne Westwood, as does Liz, for her outfit and her portrayal as John Galliano.  Chelsea does well as Carolina Herrera.  Esther falls a bit flat, unable to fully commit to her character, as does Jane, for her portrayal of Marc Jacobs.  Carrozzini criticizes Kendal for not being able to follow directions. Ann is universally loved, of course ,and Chris looks surprisingly like Betsey Johnson.

Despite their ups and downs, the judges universally chastise the girls for not being more familiar with the powerhouse designers.  The best photo of the week goes to... Liz!  And then Kayla... and then Ann. Esther and Kendal land in the bottom two, with Kendal going home for not modeling hard enough.  

Tags: Reality TV, America's Next Top Model, Reviews
From Around the Web