"What You See" was a great title for the this week's episode of Blue Bloods. It raised questions such as:
It's a blond woman driving an SUV with her son in the car.  Do you see a terrorist threat?  The cop that let her go didn't.  Blue Bloods touched on the topic of racial profiling throughout the hour. 
Do you categorize your search by ethnicity when you don't know who you're looking for?  They don't have a description of their suspect, but the accomplice in custody is an Arab man.  Do you assume the person with the bomb is Arab also?  Maybe, but then you risk missing the suspect who doesn't fit the profile…like the blond woman with the child and the bomb in her SUV.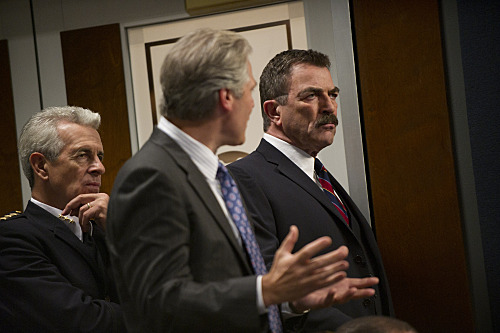 I love when Danny gets the alert information about a possible bomb in a dark SUV somewhere in Manhattan.  "There are about fifty million of those in the city," he says. 

It's a bit of an exaggeration but not by much.  I wonder how many of these vague threats the NYPD deal with regularly.  On second thought, I don't think I really want to know.

Renzulli and Jamie again give us our lighter moment of the show. 

Did you see a man in a humiliating hot dog costume on the street or did you see The Hot Dog Pharmacy? 

I guess those costumes have a lot of extra space to hold the drugs and give the wearer a reason to stand on a street corner.  I'll never look at a sandwich mascot the same way again.

There is an undercurrent throughout this episode and it is the fear of a possible recurrence of 9/11.  It's what everyone is fighting against as they search for the bomb.  As Frank reminds us, at the end of the day, we all expect to come home safe to our families. 

This episode reminded me of the work and stress these officers go through to assure that we can do that. Solid stuff all around. What did you think?

C. Orlando is a TV Fanatic Staff Writer. Follow her on Twitter.

Tags: Blue Bloods, Reviews