Chair in love. Chair at war. Get ready for ... a little bit of both?
Chuck set out to destroy Blair in last night's episode, "Goodbye, Columbia." But will the Gossip Girl couple put aside their differences and leap back into the sheets before long?
Yes and no, E! Online says. According to new intel, "Chuck and Blair are all about hate sex for the next little while." Yes, you read that right. "Lots of hate sex." Um, well then!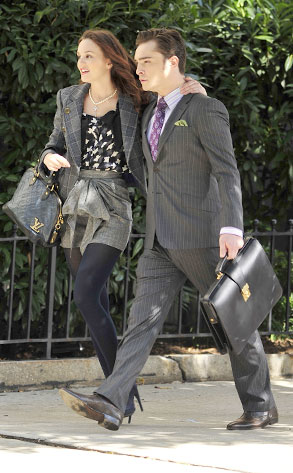 Chair will rediscover the passion soon ... for better AND worse.

As for the other target of all-out sabotage at Columbia, we'll soon learn how Serena's past is connected to Juliet's "brother." But how far back to we need to go for that connection?

Apparently a ways. He got thoroughly screwed over by Serena somehow long before the show even took place, and Juliet is helping her brother seek long-awaited revenge.

Elsewhere, Serena will be hooking up with Colin (guest star Sam Page soon), and will begin falling head over heels for her new guy, starting next episode (sadly, October 25).

Thoughts on these Gossip Girl spoilers? Discuss in the comments!

Steve Marsi is the Managing Editor of TV Fanatic. Follow him on Google+ or email him here.

Tags: Gossip Girl, Spoilers