Thomas Gibson on "Transitional" Criminal Minds Season
by Steve Marsi at .
Thomas Gibson (Aaron "Hotch" Hotchner) recently opened up on the new season of Criminal Minds in a revealing interview with Fancast, discussing future story lines, guest stars, the controversial departure of AJ Cook and much more.
Excerpts from the veteran actor's Q&A below ...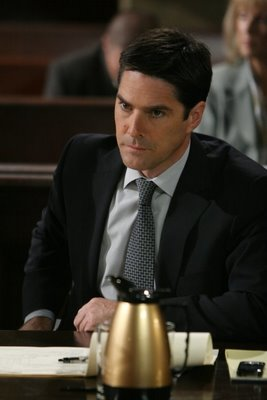 On A.J. Cook's departure: "She's a great person – and this was written into the episode as well – she looked at it like, "Sometimes life throws you a curveball and you need to look at it as an opportunity." [The decision to write out JJ] is something I guess we will never quite understand fully, but she has moved onward and upward – and I guess we need to as well."

On filling JJ's role on the team: "Hotch said to her he wasn't go to replace her because the shoes are too big. So in order to keep our family together and functional, we want to try to redistribute her responsibilities and manage it somehow. This week there's some interesting exploration of exactly how we do that. It takes a really good turn, I think."

On Criminal Minds' consistent ratings domination, despite its grisly nature: "The idea that [showrunner] Ed [Bernero] always goes back to is that it's a thriller that has the parameters of a crime investigation. People find this material – and I now I do – fascinating."

On Hotch's journey this season "The big theme that Ed has talked about is "secrets," that things we don't yet know about these characters will get revealed. In hindsight you go, "Yeah, that makes sense to me," but they're things you won't necessarily see coming."

"For my character, what he went through last year – losing his wife, becoming a single dad – it's about adjustments. There are going to be things he didn't see coming. Trying to keep the ball in the air between his personal and professional life is going to be a challenge."

On his favorite relationship on the show: "I love doing the stuff with Cade [Owens], my little boy on the show, who started with us when he was maybe 2 1/2. I've seen him grow up and we have a really nice TV father-son relationship."

On his personal high-water mark episode: "Our 100th episode is one that comes to mind for my character, because so much happened to him. But there tend to be a few from each season that each of us on the cast feels fondly about."

On future guest stars: "Sally Kirkland is doing the show this week, Robert Knepper is doing the show, we've got a fantastic episode coming up that Mare Winningham is in."

Steve Marsi is the Managing Editor of TV Fanatic. Follow him on Google+ or email him here.

Tags: Criminal Minds, Interviews
Related Stories