It's not a ratings stunt.
That's what Trevor Donovan wants everyone to know about his character's sexuality on 90210, as producers made it clear over the summer that Teddy would reveal himself to be gay this season.
"It's true to real life, it's happening at a pace I think it would actually happen and it's going to unfold very realistically, very heartfelt," the actor told TV Guide, making it clear he didn't want the development to take place as a "quick ratings boost."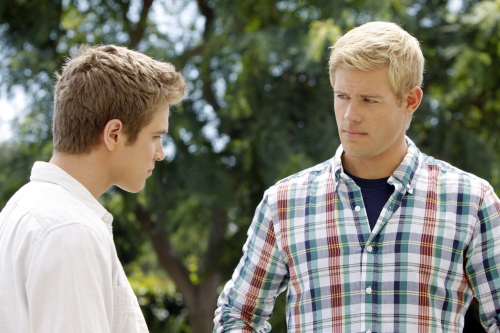 Viewers have already learned that Teddy drunkenly hooked up with Kyle Riabko's Ian, only to remain in such denial over it that he screamed at the character last week, referring to him as a "fagot."

Expect more outbursts from Teddy as he goes through this "internal" battle, Donovan says.

"He's battling with himself. He's creating his own problems and... there's going to be a lot of external struggles from other people mostly caused by his frustration, his anger, his denial and confusion."

Donovan teases that Ian will actually be very understanding of Teddy's problems and play an active role in mending things between him and Silver.

Meanwhile, Donovan is taking an active role in gay issues. This storyline coincides with a handful of tragic suicides by bullied teens over the last few weeks and the actor sees the show as an "amazing opportunity to educate people." He's filmed a PSA on the topic that you can view HERE.

Matt Richenthal is the Editor in Chief of TV Fanatic. Follow him on Twitter and on Google+.

Tags: 90210, Interviews