Jennifer Grey made her case for the Dancing With the Stars crown with TWO rounds of perfect scores Monday night. Bristol Palin came in last, as she typically does.
We'd say it's a dead heat between the two for the title!
Kyle Massey? He had a great run, but it's hard to see him overtaking Jennifer on merit, or Bristol in fan support, so it's a two-horse race, we're afraid. Who will win?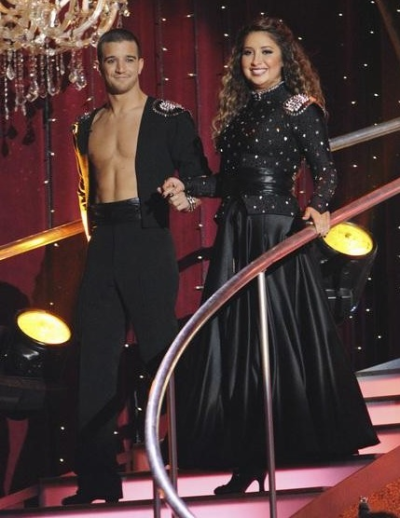 Can Bristol Palin pull off the impossible?

In fairness to Bristol Palin, she's been roundly criticized by many in the past few weeks, and it's not her fault she made the finals. All she does is try her best out there.

She's also improved considerably from the start of the season, and while she was at the bottom of the scoreboard last night, both of her dances were far from terrible.

Bristol has no business in the finals, but she gave it her all. Will that and a rabid fan base take her over the top and clinch the biggest upset in the show's history?

Kyle Massey and Lacey Schwimmer scored a 27 (9,9,9) in their foxtrot coupled with a wild, fun freestyle that typified his season and earned them a 29 (10,9,10).

Bristol Palin and Mark Ballas jived their way to a 27 (9,9,9), while their freestyle routine came up a tad flat, expressionless and wooden at times for a 25 (8,9,8).

Jennifer Grey and Derek Hough redeemed their previously imperfect paso with a 30 (10,10,10), then finished off her great season with a freestyle 30 (10,10,10).

The case is clear. The total scores last night:

Jennifer & Derek: 60 (35.71 percent)
Kyle & Lacey: 56 (33.33 percent)
Bristol & Mark: 52 (30.95 percent)

Note the percentages after the scores. That's because the judges scores ARE factored into the totals every week (making Bristol's run that much more shocking).

Basically, Bristol needs to overcome those gaps with a significant win among fans if she wants to carry home the Mirror Ball trophy. Don't count her out, either.

Who do you want to win? Follow this link for more Dancing With the Stars!

Steve Marsi is the Managing Editor of TV Fanatic. Follow him on Google+ or email him here.

Tags: Dancing With the Stars, Reviews