This was the episode all Fringe fans have been waiting for, or so we were told.  From the previews leading up to it, many people expected to see Olivia return home.  We were sadly mistaken.
The closest to home Olivia makes it is into that same gift shop, and for only a few minutes.  So now we have to patiently wait two weeks to see the highly anticipated conclusion and homecoming for our Olivia.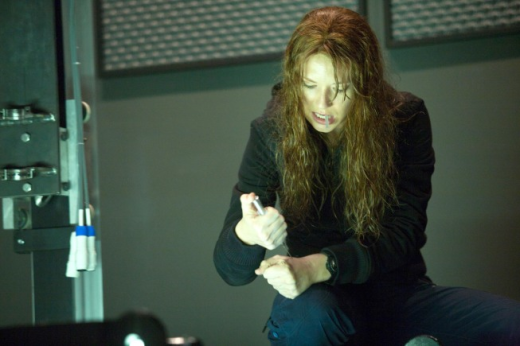 Overall, though, we have to say this was our favorite episode of the season. It's great to have our old Olivia back, with Bolivia slowly leaving her subconscious.  It's as if her mind and body are slowly figuring out who they really are.  Olivia also knows a lot more about science than Bolivia, which ultimately helped her save the life of a young boy this week.
On "The Abducted,"Olivia plays a vital role in solving a case involving a serial kidnapper responsible for stealing his victim's youth.  This man tragically kidnaps a child and somehow drains his cerebral cortex, allowing him to also steal his victim's youth and become young himself.
One of the Candyman's past victims is Broyles' son, Christopher.  In the end, when Olivia saves the day and apprehends the man, Broyles feels genuine gratitude for a woman he knows is not really his agent.
This unexpected bond with our Olivia ends up allowing Broyles to look the other way, especially after he figures out Olivia knows the truth about who she is.  And even though Olivia doesn't make it home, an important message does find its way into Peter's ear.  A message that now opens his eyes.
Peter now knows Bolivia is not his Olivia.  He finally knows the truth!
This makes me wonder a few things:
How will Peter handle the news he received about Bolivia? Will he continue the charade in order to see what Bolivia knows?
What will Walter do once he learns Bolivia has been impersonating his dear friend Olivia?
Will Walter and his brilliant brain be the one to figure out a way to get Olivia home?
Will Peter continue working on the doomsday machine now that he knows Olivia is trapped Over There?
Peter seems to be the key to Walternate's evil plans.  We hope Olivia discourages him from getting involved in Walternate's plans to construct the doomsday machine. There can only be one side that is victorious, unless Walter can somehow figure out how to merge both sides.  Maybe make one out of two?  Seems highly impossible, but nothing is really impossible on Fringe.
Until December 2 when Fringe returns, I leave you with a few of my favorite Fringe quotes to keep you smiling:
Olivia: It doesn't matter where I'm from, what matters, what matters is that I'm in trouble and I think my time is running out here. | permalink
Walternate: Our Olivia's mission on the Other Side is almost complete; we'll be able to bring her home.
Broyles: What about this Olivia?
Walternate: Pull her out of the field tomorrow morning; I don't believe we'll be needing her anymore. | permalink
Lee: When we're done here, do you want to join agent Charlie and I for a beer? We get a lot of bad days; we've got to celebrate the good ones.
Olivia: No thanks, I'm going home. | permalink
Henry: You got me all the way out here. You might as well tell me where the hell you're from.
Olivia: I'm from a parallel universe. | permalink
Tags: Fringe, Reviews
Want more Fringe?
Sign up for our daily newsletter and receive the latest tv news delivered to your inbox for free!
More From TV Fanatic
On Murder in the First, Cindy's husband ends up dead and that forces the police into overdrive. Will his confession hold up?
On tonight's Under the Dome, Rebecca wants to release a deadly virus into the population. Will she do it? And how many would die?
Fritz is offered a new job with the LAPD on this episode of Major Crimes. Read on for more.
OnMistresses, Joss tries to stop Harry from going back to Australia, Karen faces a dilemma involving her lover and a patient, April has a crisis of conscience - and Savi says goodbye to her home.
---