"It's not anything that the audience can't handle." - KaDee Strickland
By "it," the beautiful and talented actress is referring to her character Charlotte's sexual assault and brutal beating in tonight's episode of ABC's Private Practice.
Covered in prosthetic cuts, scrapes and bruises, KaDee spoke to TV Guide about the story arc, which began at the end of last week's episode, "All in the Family."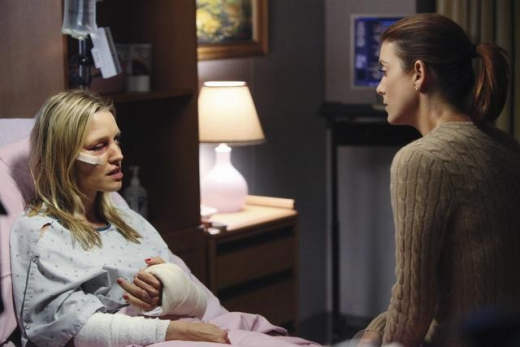 Charlotte (KaDee Strickland) and Addison (Kate Walsh) in the aftermath of the attack.

It was a moment fans won't soon forget. Charlotte walked out of her office at the hospital only to encounter a deranged man whose face viewers have yet to see.

After a harsh smack, the assailant (played by Buffy alum Nicholas Brendon) shoved Charlotte back into her dark office as the episode ominously faded to black.

"The fact that she has this happen in her place of business is a very powerful statement because she has to go back to it," Strickland says of the brutal attack.

"It will never be the same thing to walk into that hospital."

Charlotte's initial reaction is one of shame and denial, so much so that the once fearless leader of the hospital will not share what happened behind closed doors.

"Charlotte is so apprehensive," Strickland says, tearing up at the thought of such a plight in real life. "Charlotte is someone who absolutely lives to control things."

"In this moment and in this act of crime that happens to her, all control is lost. Out of the devastation and the shock, she just wants to act as if it didn't happen."

Just moments after the attack (as seen in this sneak preview clip) Pete discovers a bloody Charlotte in the hospital. Tim Daly assessed his character's role as well.

"Pete has a unique sensitivity to it, because right from the beginning he suspects she was raped, but chooses to completely respect her privacy on it," Daly says.

"The fact that he doesn't push her makes even her more vulnerable," he observes. "It's easier for her to push back when people are nosing into her business."

Because she's in shock, Charlotte will initially reject a rape kit.

"Addison is trying to convince her to do the right thing - the kit, the HIV test, the blood labs - these are imperative things," Kate Walsh (Addy) tells TV Guide.

"The dichotomy of that relationship changes because I need to lean into someone," Strickland says. "I feel safe and I feel that Addison would never betray me."

"The thing that I love about the character of Addison, in terms of her being a hero, is that you really see her stand in those shoes with a very new point of view because this isn't hers to do. It's mine. I'm the one living with it and I bring her into it."

Along with Addison, Amelia (Caterina Scorsone) will step up.

"In the process of tending to her injuries, she and Charlotte start developing a bond," Scorsone says, noting that Charlotte and Amelia will also "discover they have a very significant thing in common, so the bond that they form is immediately deeper."

Because Violet (Amy Brenneman) was raped in college, she will help to guide Charlotte. It "opens up a story between a survivor from a college-age and this story of an immediate victim, having to learn how to become a survivor," Strickland says.

"It's obviously not always the easiest thing to come to grips with and certainly not in the hours that pass because so much happens in that time."

Fiancé Cooper (Paul Adelstein) will take it particularly hard. "She's a very strong woman and he has a lot of trouble seeing her so compromised," says Adelstein.

"He's actively pushing Charlotte to be more present in the investigation and calling the police. He's really encouraging her to close this thing."

"I think all of the helplessness, all of the rage, all of the confusion, the element of him not having been able to prevent it, all comes into play," Strickland adds.

The small victories will come in Cooper attempting to make her smile, though she'll be the one trying to buck-up for Cooper's sake. "At one point she gets afraid that he's going to leave her because they're not back to normal," Adelstein says.

Not surprisingly, and not without consequences, Cooper will also be in the dark for several episodes before learning the true nature of her attack.

Steve Marsi is the Managing Editor of TV Fanatic. Follow him on Google+ or email him here.

Tags: Private Practice, Interviews, Spoilers