The bartender experiment makes for good laughs (and a good Grey's Anatomy Caption Contest) but when will Cristina return to being Cristina the badass surgeon we know and love?
According to E! Online, a source saw Sandra Oh back at Seattle Grace-Mercy West for a recent shoot, so it looks like her upcoming fishing trip with Derek may have done the trick.
At least we can hope ...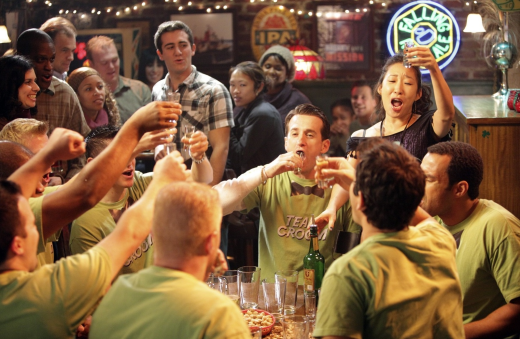 Speaking of that fishing trip and Derek's involvement with Cristina, some fans have wondered why Yang's PTSD seems to be of greater concern to Der than Meredith's miscarriage.

Creator and executive producer Shonda Rhimes' response: "Because Cristina saved his life & because no one held a gun to Mer's head, gave her PTSD and made her unable to operate ... because he is being optimistic about future babies."

Hard to argue with the boss there.

As for whether Meredith and Derek will get legally hitched this season (a point of contention among some Grey's fans), Rhimes says, "Mer and Der are as married as they are gonna get. I love them together and I love them together on a Post-It."

Steve Marsi is the Managing Editor of TV Fanatic. Follow him on Google+ or email him here.

Tags: Grey's Anatomy, Spoilers