A season filled with hills and valleys of action and excitement ended with rather tame Return to Normalcy in Atlantic City this week.
There were some dramatic reveals (nothing too unexpected, though), inklings of future trouble and even some brutal violence, but it was a little disappointing that things did wind down quite easily for Nucky in the season finale of Boardwalk Empire.
While some of the developments felt genuine, like Nucky and Margaret's reunion, others felt a little forced. The season wrapped up with a lot of resolutions, but clearly there's more than enough material for next season.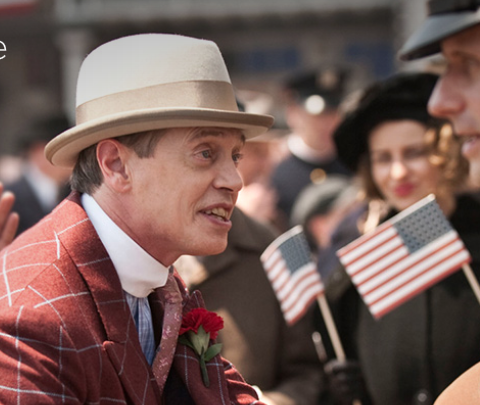 Nucky's electoral and bootlegging problems were resolved a little too effortlessly.

With Torrio's intervention, Nucky agrees to use his influence with the Chicago prosecutor to make Rothstein's indictment for fixing the World Series disappear, and Rothstein will give him the locations of the remaiing D'Alessio brothers... and a million dollars.

Ever the quick-thinking politician, Nucky notifies the press that the D'Alessios were involved in the highway shooting, and their deaths (in the only gruesome scenes of the night) sway the voters to return to the Republicans. Nucky and his party (including Mayor Bader) win as well as presidential candidate Warren Harding. Things cleaned up very nicely for Nucky.

My only complaint would be the ease with which this was all achieved. Clearly, Rothstein and Nucky are intelligent men and can see the hopelessness of continuing this war, but it is hard to believe that the bad between them, and between Jimmy and Lucky, will come to nothing in the end, especially with all the buildup.

Margaret, forced to live with the Harding's delusional mistress, contemplates her options, but can decide whether to stay or leave.

After stumbling upon a grave for Nucky's wife and child, she returns to his office to finally find out who he really is. He recounts a heartbreaking story of losing his child just days after its birth, but the worst part of his tale was the tragic mental breakdown of his wife. Having cared for the dead infant for a week, she can't handle the loss and kills herself.

For his part, Nucky feels guilty for having neglected the two of them for so long that he hadn't noticed his child's death and couldn't help his wife recover. But he confesses to only being happy again when he was with Margaret and her kids. Before she leaves Margaret asks, "There's a kindness in you, I know it. How can you do what you do?"

And Nucky responds, "We all have to decide for ourselves how much sin we can deal with." After considering his statement, and perhaps her own economic condition, Margaret returns to Nucky. It seems natural that they would get back together, but I find it hard to believe that Margaret's crisis of conscious is over. It might just be that she has so few options.

It was sad to watch Jimmy genuinely try to win back Angie and get disappointed by her continued love for Mary. Although his treatment of her has been shaky over time, he confesses to dreaming about being next her and touching her long hair even while he was in the trenches. Angela promises to try to start over again, but a postcard from Paris ("Forgive me but don't forget me") crumbles her resolve, and she chops off all her hair.

Jimmy's only comfort seems to be his newly attentive father. The Commodore is recovering from his near death due to arsenic poisoning, but is incredibly upset when Nucky allows his maid, the supposed perpetrator of the crime, leave town with a wad of cash. (Also, it seems like there's more to the poisoning story because I still suspect Gillian had more to do with it than the maid.)

The incident builds the Commodore's bitterness towards Nucky and he begins to plot his former protégé's downfall. He is able to get Eli on his side who, despite being returned to his position as sheriff, also resents his brother. Jimmy always thought Nucky loved him, but recent revelations made him feel like Nucky only helped him to assuage his own guilt for "pimping" out his mother.

As he drunkenly confronts his boss, he tells him, "You're like a machine... totally devoid of emotion."

In this highly suggestible state, Jimmy listens to the Commodore and Eli's plan to push Nucky out and put Jimmy in his place. This plot should serve the next season well and it makes sense given the growing resentment between Eli and Nucky. However, I don't see a lot of justification for Jimmy's part, other than perhaps a thwarted desire to be loved. Without a caring father or a devoted wife, Jimmy seems a little lost so he pursues his business ambitions.

Having reported that Agent Sebso died of a heart attack in the line of duty, Agent Van Alden decides to return from his post in Atlantic City. As he lectures the new agents to avoid "the temptations that keep us from our better selves," he muses on his own difficulties avoiding the temptations of the city.

He promises not to return to his position unless he receives a sign from God, and then Lucy shows up to announce that she is pregnant. I'm sure that's not quite the sign he was looking for, but it might keep in Atlantic City for a least a little while longer.

The series ended with a weird juxtaposition of Jimmy looking at the water from the beach while Nucky and Margaret looked uncertainly over the same ocean from the boardwalk. Jimmy's position seems to mirror Nucky's in the opening credits and might indicate his attempt to usurp of his former boss in the next season.

As for Nucky and Margaret, they are still not secure in their positions together or apart. It was quiet ending for the series, but it seems like there might be some interesting plot lines for the next season.

Tags: Boardwalk Empire, Reviews