In our Bones review earlier, we discussed how last night's episode felt like an interlude, with little of consequence occurring personally or professionally for the characters.
Next week looks like the polar opposite. This could be the game-changer.
As Booth and Brennan investigate the mysterious death of a surgeon, our heroine's objectivity wanes when she eerily relates with the deceased. As Sweets says, she cannot help but over-identify and draw parallels with her own life. What action will she take as a result?
Check out the promo for "The Doctor in the Photo" and comment below: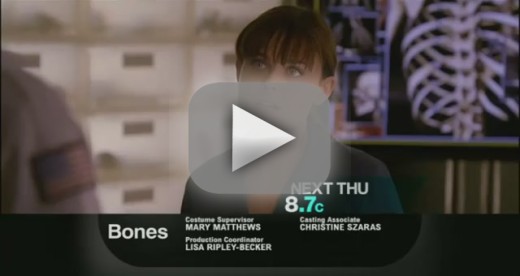 EW also has this teaser: In "The Doctor in the Photo," Brennan will make a shocking move that honestly might leave you in tears. We leave you with this equation:

Heroism in "Two Bodies in the Lab" – real danger + tear-worthiness of last 20 minutes of "The Parts in the Sum of the Whole" + 1/2 the weirdness in "The End in the Beginning" + Veronica Mars mini-reunion (Francis Capra and Enrico Colantoni!) = "The Doctor in the Photo."

Thoughts?

Steve Marsi is the Managing Editor of TV Fanatic. Follow him on Google+ or email him here.

Tags: Bones, Spoilers