Criminal Minds Review: "25 to Life"
by Steve Marsi at .
This week's Criminal Minds, "25 to Life," saw Morgan in the spotlight and in the crosshairs as his decision to help a parole candidate, Don Sanderson (guest star Kyle Secor) achieve his freedom led to unexpected, nearly disastrous repercussions.
Shemar Moore was terrific, especially the impact of his actions resonated internally.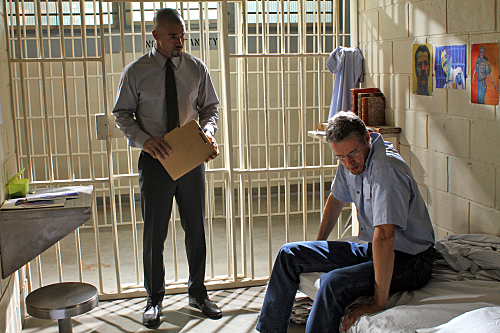 Don maintained his innocence and was a model prisoner.

After a quarter century of denying the charge he was convicted on and causing no problems behind bars, and following close monitoring by Morgan, Don is set free after Morgan makes a recommendation to the parole board that he be.

Three days later, Don kills again. Or is it again?

Morgan has no idea what he just opened up, but this much is clear. Don is not your standard UnSub. His victim, Tom Wittman, was one of three people Don claims was present the night his wife and daughter where slain - the crime he went down for.

Don claims what he did was basically self-defense.

He'd been waiting a quarter century to find the real killer and was innocent all along. As Morgan takes heat for setting him free, the BAU delves into the case once more.

The trail leads to Mary Rutka, but as the team arrives at her house, a man flees out the back and she is found dead. A tough break, but clearly they're onto something.

Prentiss and Morgan point to blackmail as the reason she was killed. She had evidence of the crime committed against Don's family that would implicate the threesome.

An old video proves them right. The UnSub's voice is on it, crystal clear ... or at least one of his catchphrases is. It's politician James Anderson, a well-known figure!

After Garcia is able to match Anderson's voice, the BAU busts him and a vindicated Don, is reunited with the son he hasn't seen in 25 years in a moving conclusion.

"25 to Life" was another solid episode from a show that rarely delivers anything but. Morgan's role was strong and the exploration of the parole process was new.

You never really know how it's going to play out and sometimes your best guess has to be good enough - and sometimes the convicted really are innocent.

What did you think of last night's Criminal Minds? What were your favorite (and least favorite) things about the first half of the season so far? Discuss!

Steve Marsi is the Managing Editor of TV Fanatic. Follow him on Google+ or email him here.

Tags: Criminal Minds, Reviews
From Around the Web