Guess Dexter and Lumen should have hopped that freighter, huh?
Indeed, the best episode of the season featured an abundance of pulse-pounding scenes, as Dexter offed Liddy, Jordan took out Emily and Laguerta... well, she mostly remained an irritant.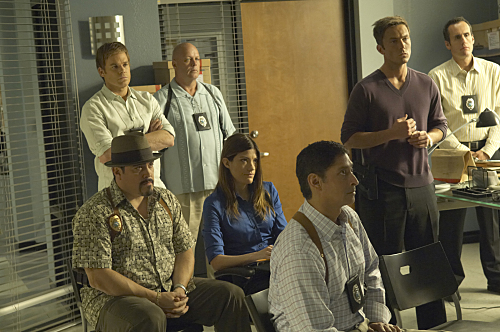 Thanks to the action of "Hop a Freighter," the stage is set for an unpredictable season finale.
In the past, it wasn't difficult to foresee how things would go at the conclusion of each
Dexter
season. In some way, shape or form, Dexter's main antagonist - from his brother to Doakes to Miguel to Trinity - would be killed, typically by Dexter's hand on Dexter's kill table.
But it's hard to imagine this year will end the same way. Even if Dexter does track down Jordan and plunge a knife into his chest, consider all the other factors at play:
What will happen with Lumen?
Will Quinn get further involved?
How close will Deb get to her sibling's connection to Chase, the man she's sure is being hunted by a pair of vigilantes?
Regarding the final point, how great was the scene where Deb inadvertently discussed Dexter's love for Lumen? The show has been dropping hints that she'll one day discover her brother's secret, but also teasing the possibility that she'll be okay with it.

Earlier this season, she spoke on her lack of guilt over killing that Fuentes brother. Here, she refers to Dexter's vigilante work as "fucked up and beautiful." Sort of describes how many viewers feel about Dexter himself, doesn't it?

Let's also give props to the show for how it's evolved Quinn. He gave a heartfelt speech to Deb about how she's affected him as a human being, to the point where he's almost as blinded as she is to Dexter's murderous ways.

It's sweet he wants Liddy to back off Deb and all - but does he really not want to pursue Dexter, considering the photos Liddy has handed him? It's a bit of a stretch to think that Quinn would go from suspecting Dexter was Kyle Butler (a plot point I really wish this season had addressed more) to not even caring that he looks to be discarding a body into the ocean.

As for Dexter and Lumen, I'm calling it now: the season will conclude with a proposal. Consider the reference to Dexter buying a ring this week, his two-word response to Lumen on the docks at one point ("I do") and the overall idea of how she is the one person to not see him as a monster.

I'll be torn on how to react to this development if it happens because Julia Stiles is simply not in the acting league as Michael C. Hall (the former overacts every scene, the latter is a master at subtlety), but we're getting ahead of ourselves.

What did everyone think of "Hop a Freighter?"

Matt Richenthal is the Editor in Chief of TV Fanatic. Follow him on Twitter and on Google+.

Tags: Dexter, Reviews