EXCLUSIVE: Sarah Hyland on Hilarious Modern Family Cast Members and More
by Gabrielle Compolongo at .
Simply put, Sarah Hyland cracks us up every week on Modern Family.
As the actress who portrays Haley Dunphy, Hyland is part of an extraordinary cast, especially when one considers how often the show features its young stars in various storylines. Below, she gives TV Fanatic the exclusive lowdown on various co-stars and storylines ahead...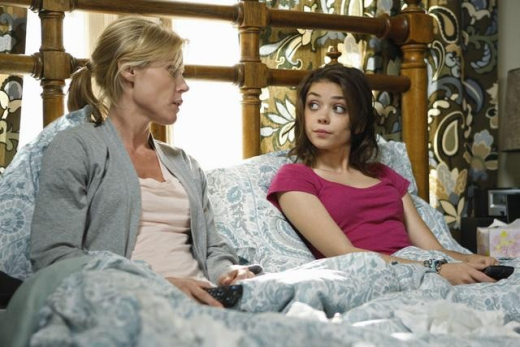 Is it hard to keep a straight face on set?
Sometimes. It really depends on what's going on. Halloween was probably the hardest time I've had keeping a straight face. Just the fact that Ed looked like a gargoyle, the mask that he had on was hilarious. Sophia's American accent, just the combination of everything that day made it very hard. I'm pretty good at keeping one; I'm usually one the last to break. I usually only break because other people have.

Who is the funniest cast member when the cameras aren't rolling?

Well, that's not fair. Everyone's funny on the show off screen. Ty is hilarious. But Julie, people would probably be the most surprised because her character is so put together, and that's what makes it funny. She's so put together and everyone else isn't, but she is hilarious just as Julie Bowen herself.

Which cast member is most like his/her character?
Probably Ty. He's a lot smarter than Phil, but they have the same sense of humor.

I know you tend to forget episodes after you film them, but do you have a favorite episode?
I do. The Halloween episode was the episode that, when we weren't even done filming, I already couldn't wait to see it.

Please tell us Haley and Dylan never break up.
I don't know that. We just broke up two weeks ago on the show, so I don't know. He hasn't been back so far yet.

What would you like to bring to your character?
I have this one idea. I'm a singer, but I always thought it would be funny if Haley was tone deaf and thought she was the best singer ever.

Do you have anything else in the works that we should know about?
My movie Conception is in post production. Conception is a movie that I did with my boyfriend, Matt Prokop. It's like a Rated R Valentine's Day. Nothing too bad because we play sophomores in it. It's about eight different couples who all conceive on the same night. Josh Stolberg wrote and directed it so it was a really fun thing to do. Matt and I got to play two sophomores that lose their virginity to each other.

Tags: Modern Family, Exclusives, Interviews
From Around the Web