Modern Family Episode Guide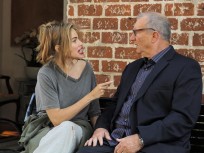 Cam has trouble adjusting from the honeymoon while Gloria turns the tables when Jay starts ignoring his appearance on the Modern Family season 6 premiere.
On the Modern Family season 5 finale, after going through several contingency plans and stressing out their friends and family, Mitch and Cam finally get married.
Wedding planner Pepper (Nathan Lane) is put to the test when things go awry for Cameron and Mitchell's wedding on Modern Family.
Jay, Gloria, and Manny challenge one another to step out of their comfort zones while the cost of Cameron and Mitchell's wedding gets out of control on Modern Family.
Gloria organizes the yearly family portrait and Phil creates an elaborate lie when he misses an appointment on Modern Family.
The entire family heads off on an Australian vacation on Modern Family.
Phil gets sidetracked in a neighborhood salon while trying to help Gloria sell her old apartment on Modern Family.
Jay takes the family on a trip to Las Vegas but becomes obsessed with upgrading to the highest level while Claire hits the tables to win money back she lost years before on Modern Family.
Jay and Luke bond over a conversation about tools while Claire and Gloria take Lily shopping for a flower girl dress on Modern Family.
Cameron is in charge of the school's big spring dance on this episode of Modern Family.