Family Guy Review: "Road to the North Pole"
by Kate Moon at .
For those who aren't familiar with Family Guy's "Road to..." episodes, there is usually a lot to enjoy in these hour-long installments. Traditionally, episodes such as "Road to the North Pole" feature our favorite dog and baby in a madcap road-trip musical.
I had mixed feelings about this one, despite its clever moments and hopeful ending.  While I normally have no problems about Family Guy's shocking or offensive themes, I felt bit disconcerted about the direction of this Christmas episode.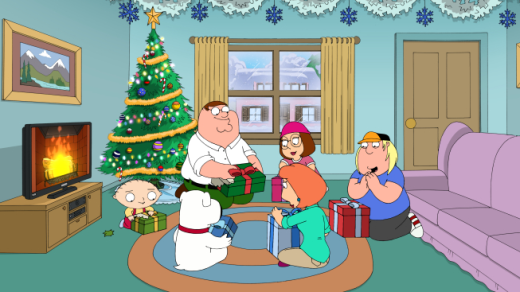 Perhaps it was the way that the series stomped on something as innocent as Santa and his elves and twisted them all around. Or perhaps it was the cannibalistic reindeers.  Whatever the specific reason, the irreverent nature of Family Guy seemed just a little too graphic for me this time around.

"The Road to the North Pole" started innocently enough.  I enjoyed Stewie and Brian's adventure and the often-homicidal Stewie's decision to kill Santa after feeling slighted by the local mall version.

Despite Brian's best efforts to trick Stewie by taking him to a Santa's workshop in Rhode Island, Stewie was determined to avenge his slight and insisted on trekking to the North Pole by any means necessary, despite blowing up a truck and cutting a Canadian man's leg. 

There was a clever little Bones shout-out to David Boreanaz, who appeared in an Aurora Borealis to guide Stewie and Brian to safety.  Remember when Booth hallucinated Stewie back in Season 4 of that show?

Viewers received quite a shock with Santa's workshop.  Instead of the cheery place we would expect, it was a shocking den of toxic waste, inbred elves and wild, feral reindeer.

I bet a lot of younger viewers were more than disturbed by the scene where mutant elves churned out presents sweatshop-style.  And what about Stewie and Brian tempting reindeer with elf flesh?  Overall, I was surprised by the dark tone of the episode, even if we were treated to a welcome throwback to the simpler times of "one gifts" at the end of the episode.

Was "Road to the North Pole" meant to be a social commentary on consumerist tendencies?  Most likely, considering the factories in Santa's workshop, population boom, and references to the iPod.  Was it meant to teach us a lesson in appreciating the simpler things in life?  Probably.  Was it necessary to bludgeon the father and mother in front of a little girl during Christmas Eve to teach us this lesson?  I would say most likely not.

Did anyone else find it over the top? Check out our favorite Family Guy quotes from the hour and sound off now.

Tags: Family Guy, Reviews
From Around the Web