Hawaii Five-O Producer Previews 2011: What's on Tap?
by Matt Richenthal at .
Redemption for Chin. Family drama for Danno. Romance for Kono. An archnemesis for McGarrett.
All of these developments and more are ahead on Hawaii Five-O when this CBS drama returns in January. What, specifically, can fans expect from TV's top-rated new show? Sounds like a question for showrunner Peter Lenkov...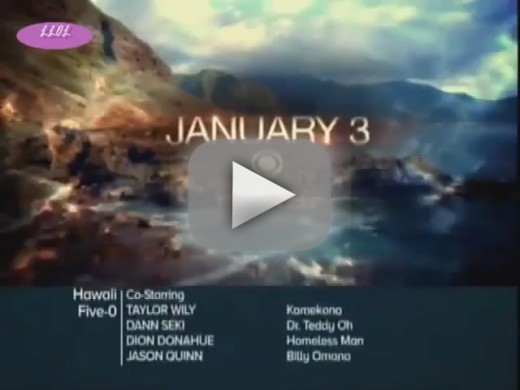 On plans for McGarrett in 2011: Hesse is alive... and you realize there's a connection from Wo Fat to Hesse. [We'll get into] the whole mystery of what was in the "champ box" in the second half of the season; that's all going to really play out.

Who is Wo Fat? He's McGarrett's archnemesis. He's the Joker to Batman, or Lex Luthor to Superman. In the original series, Wo Fat was sort of launched as a character in the pilot and in the last episode 12 years later he was caught by McGarrett and put behind bars, but in the course of 12 seasons he popped up every now and then.

What's ahead for Danno?

Stan's going to be introduced soon, Rachel's husband. And there's a great story between Danny and him that we have coming up. We're going to meet

Danny's brother

down the road, he's going to come out to Hawaii to visit, and there's a really interesting story involving him.

On romance ahead: Kono going to have a love interest, an unconventional love interest... He's related to crime in some way.

And Chin? There's a resolution to Chin Ho's backstory, in terms of losing his badge in the police department. There's a real resolution to that [of] redemption for him. It plays off how you first met him, and he comes a complete 180 [degrees] by the end of the season.

Matt Richenthal is the Editor in Chief of TV Fanatic. Follow him on Twitter and on Google+.

Tags: Hawaii Five-0, Interviews, Spoilers
From Around the Web