Hawaii Five-0 Episode Guide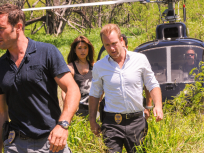 O'ahu goes on lockdown when a terrorist starts using drones on the season premiere of Hawaii Five-0.
On the Hawaii Five-0 season 4 finale, WoFat breaks out of prison while Grover's daughter is kidnapped and he is forced to help steal $100 million.
McGarrett and Catherine travel to Afghanistan to help the family who saved Catherine's life years before on Hawaii Five-0.
A murdered pool cleaner leads Five-0 to uncover a possible terrorist cell of radicalized students who are plotting an attack on the U.S. on Hawaii Five-0.
The team is set up and McGarrett and Danny are led to a building filled with explosives on Hawaii Five-0.
At Chin's high-school reunion, the daughter of a macadamia nut tycoon is murdered on Hawaii Five-O.
Danny does all he can to get his parents back together on Hawaii Five-O.
A top secret Chinese satellite is connected to a triple homicide and Grover takes Danny's mother on a ride along on Hawaii Five-O.
As the team investigates when a realtor's body is found in the walls of a house, Danny is stunned when his mother (guest star Melaine Griffith) comes to visit on Hawaii Five-O.
When an escaped convict wants Five-0 to prove he is innocent, he kidnaps McGarrett and Danny on Hawaii Five-0.