Well, didn't The Closer make it difficult for me to review it this week? I normally set out with a beginning, a middle and a conclusion, but this particular episode, "Living Proof: Part One," is divided into two parts. That is not a nice Christmas gift at all!
Now that my whining is out of the way, the episode was difficult to pin down.
While the entire squad is trying to be free for their holiday plans, there is a death, which leads to two murders. Wrapped nicely inside this box is a bit of the war in Kosovo, Albanians vs. Serbs, Islam vs. Christianity, father vs. son and a myriad of other goodies. Less like a gift, more like a bunch of puzzle pieces missing their connecting pieces.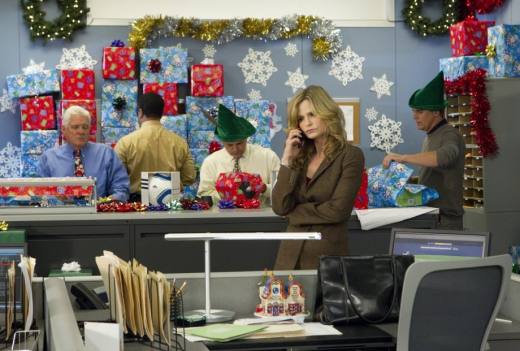 The juxtaposition of everyone wanting so badly to on their holidays, and yet still working the case didn't feel right. I know they are a good team and will, in the end, figure it all out, but there were so many shots taken about the case, that they were missing their holidays all over a few murders as a little off-putting.

Of course, it was also, and I cringe just thinking it, very humorous. Some of the dialog was very funny, and what you see in the quotes section is only small sampling of what was really going on. But geez, should I be laughing when a family is falling apart.

On The Closer, I guess so!

Every time the squad thought they reached the end of the road and solved the case, a barrier was broken and turned the case on it's head. Raydor had actually gone to the airport only to be sucked back in when Pope arrested an 11 Albanian/American boy whose family was the focus of the murders and investigation.

After announcing they are moving to LA to be near Brenda, her parents were in heaven feeding all of the detectives and helping them wrap presents.

Brenda seems torn between loving having her mama and her daddy there to take care of her and realizing they will actually be there, in the same city, with no distance. Poor Fritz just seems to be going with the flow and hoping for the best.

At this point in the case, it could go in any direction. I can't even hazard a guess as to what to expect out of the second part, except that Christmas will either be celebrated or already over by that time. That the last scene was just an additional murder added to the already jumbled up mess of a case leaves me little wiggle room.

I am hoping that next week I will be able to better articulate everything once all the pieces are revealed and we have had time to put them together. In the meantime, I hope each of you has a better chance getting to your own Christmas celebrations than those of the major crimes division of the LAPD!

Carissa Pavlica is the managing editor and staff writer for TV Fanatic. Follow her on Twitter and on Google+.

Tags: The Closer, Reviews