After last week's explosive events on The Real Housewives of Atlanta, this week's episode was relatively tame - even when it came to the drag race. That's saying a lot.
Kim Zolciak calls up her "gal pal" Tracy Young and invites her to come down to Atlanta and hold her hand while she goes back in for some vocal lessons from Jan Smith.
Kim swore she'd never step foot in her studio again but given the fact that she promised Kandi she'd work on her "singing" Kim has no choice. Tracy agrees to come.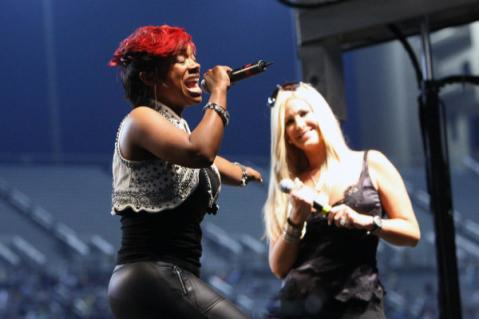 Real housewives. Dreadful singing.

Meanwhile, Sheree decided to further her acting career by auditioning for an agent and getting her head shots done, and 50-year-old Peter has an irrational annoyance towards Nene.

Kandi and Sheree decided to race their luxury cars at the local speedway, while Phaedra and Apollo do a professional photo shoot with Aydan. You know, standard operating procedure.

Kim managed to lay down some tracks for "The Ring Don't Mean A Thing" - torturous for all involved. The ladies all got together to watch Kandi and Sheree compete in a drag race but tongues start wagging when much to everyone's surprise Kim brings Tracy along.

Just how close are these two really? Oh, and 50-year-old Peter completely ignores Nene while at the racetrack which leads to an angry confrontation ... we're just getting going.

Click for our full review of The Real Housewives of Atlanta!

Tags: Reality TV, The Real Housewives of Atlanta, Reviews