With our favorite prime time shows on hiatus, TVF is taking a look back at some buzzed-about programs and grading their performance this fall, with a look toward 2011.
Our first mid-season report card recipient: Private Practice.
Best episode: The aptly-titled "Did You Hear What Happened to Charlotte King?" Taking place in the immediate aftermath of her brutal attack, with the focus on each character's emotional response, the pacing was appropriate and the acting brilliant.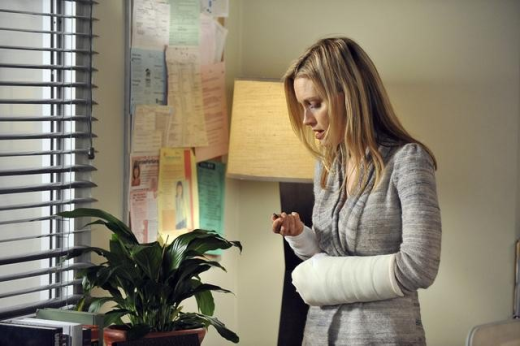 Best character: Charlotte would be an easy call after the way KaDee Strickland has carried the season's defining storyline. So would Addison, the always-conflicted but likable lead. But we're going with Sam. Do we really need to explain why, ladies?

Worst character: Naomi. This isn't to say that we dislike the character per se, nor is it meant to disparage Audra McDonald's performance. It just seems like there's been less of a place for her this season and it's hard to see how she fits in going forward.

Best relationship:

Sam and Addison. We were happy when Pete and Violet made it official, but it's the former medical school friends who really heat up the screen.




Best storyline: The assault on Charlotte. It's hard to call a drawn-out plot line in which a major character gets raped the "best" anything, but the way it was handled right away and in the following handful of episodes made for compelling television.

No one knows quite what to make of it. That includes the victim, her fiance, their co-workers, and even some fans. How would you move past this? Or live through it?

This, Dell's death and the theft of Violet's baby have all been landmark stories for the Grey's Anatomy spinoff, but the striking realism makes this one the best of all.

Hopes for 2011: Charlotte and Cooper continuing to work through the attack. Sam and Addison getting pregnant ... or maybe, given her fertility situation, adopting.

Pete coming to grips with the demons from his past. Amelia and Sheldon getting together ... or at least getting more screen time. Another Mark Sloan visit. Please?

Overall grade: B+.

Do you agree with TV Fanatic's take? Disagree? Care to expound on anything in particular? What do you hope to see more of next year? Share your comments below!

Steve Marsi is the Managing Editor of TV Fanatic. Follow him on Google+ or email him here.

Tags: Private Practice, TV Fanatic Report Cards