With our favorite prime time shows on hiatus, TV Fanatic is taking a look back at some buzzed-about programs and grading their performance this fall, with a look toward 2011.
Previously this week, we gave a B to Glee. Up now: The Good Wife.
Best episode: "Nine Hours." The drama wrapped up 2010 with an hour that encapsulated all we love about this show. Alicia and company's race to save a death row inmate featured suspense, touches of humor and character developments that fit organically into a tight, interesting case.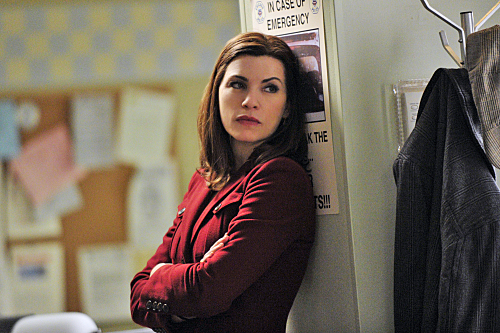 Best character: I continue to love Cary. For a series that constantly treads in grey areas, this lawyer epitomizes how well The Good Wife paints multi-layered individual. Is he good at his job? Yes. Does he know that? Oh yes. Is he a tad smarmy? Definitely. But does he have reason to be bitter? I'd say so.

Might he and Kalina hook up? Stay tuned!

Best storyline

: Slowly but surely, the show has integrated Peter's campaign into its main storylines. Thanks to the promotion of Alan Cumming to series regular, as well as the surprise addition of Wendy Scott-Carr to the race itself, this has grown into a fascinating look at state politics.

Worst storyline: Archie Panjabi is a fan, and TV Fanatic, favorite. But the feud between Kalinda and Blake has gone too far this season. I cringed when she destroyed his rental car with a baseball bat. For a drama that often specializes in subtlety, this rivalry has been pushed too hard. It has too much of a daytime soap opera feel.

Best guest star: Miranda Cosgrove played the role of a troubled teenage star perfectly, but how could anyone win this award except Michael J. Fox? So glad he's coming back.

Best pop culture shout-out: I expect the occasional, off-hand references to figures such as Jenny Sanford and Sarah Palin. But I loved the mention of that beloved double-rainbow video on YouTube.

Hopes for 2011: As mentioned above, I'd like to see the Kalinda/Blake rivalry toned down a bit. Alicia also has to choose between Will and Peter before the season is through. There's only so much back-and-forth The Good Wife can give us before it starts to feel drawn out and contrived.

Overall grade: A Minus.

Do you agree with TV Fanatic's take? Disagree? Care to expound on anything in particular? What do you hope to see more of next year? Share your comments below!

Matt Richenthal is the Editor in Chief of TV Fanatic. Follow him on Twitter and on Google+.

Tags: The Good Wife, TV Fanatic Report Cards