With our favorite prime time shows on hiatus, TV Fanatic is taking a look back at some buzzed-about programs and grading their performance this fall, with a look toward 2011.
Previously this week, we gave a solid grade to The Good Wife. Up now: The Vampire Diaries.
Best episode: "Kill or Be Killed." Surprises sprung up in seemingly every scene on this installment, which concluded with the revelation that Katherine was working with Mason. This development would lead to the latter's death, which has now led to the presence of more werewolves in Mystic Falls.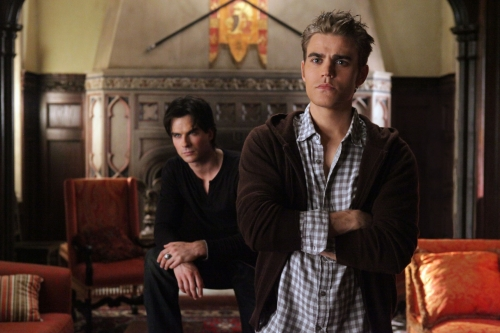 Best character: Damon seemed like too obvious of a selection... but for good reason. If there were more heartbreaking scenes on TV this fall than Damon telling Elena he loved her, only to then compel her to forget, well, I haven't seen any.

Worst character

: Jeremy means well. He's also built up a nice physique. But, let's face it, the guy is boring. I don't blame Bonnie for her lack of attraction.

Most impressive cast member: Nina Dobrev. Ian Somerhalder may get the best lines, and Paul Wesley broods with the best of them, but Dobrev goes from Elena to Katherine, from sweet to mischievous, with apparent ease. It's been a pleasure to watch.

Biggest surprise: Caroline would have been in the running for Worst Character, but her transformation into a vampire has breathed new life into this blonde... literally! The new Caroline brims with self-confidence and has found a well-meaning mission in her quest to assist Tyler.

Best addition: New characters enter Mystic Falls more often than Damon raises his eyebrows. But Rose has made the most permanent impression. She's helped reveal yet another human side to our favorite Salvatore sibling.

Hopes for 2011: More of the same, really. The show may run out of momentum at some point, but I'm happy to sit back and enjoy the ride while it continues to be this unexpected and suspenseful. I'll also be happy to see more of Dobrev in black lingerie.

Overall grade: A.

Agree? Disagree? Head over to our Vampire Diaries forum and sound off!

Matt Richenthal is the Editor in Chief of TV Fanatic. Follow him on Twitter and on Google+.

Tags: The Vampire Diaries, TV Fanatic Report Cards