Katerina Graham Hypes "Ruthless" Vampire Diaries Action Ahead
by TV Fanatic Staff at .
It keeps getting crazier and crazier. I can't even prepare you for what's going down on the show. The best way I can describe this season is with the word: ruthless.
We didn't need to be sold on The Vampire Diaries, but it's safe to say Katerina Graham has piqued our interest even more with the quote above, given this week to The New York Post.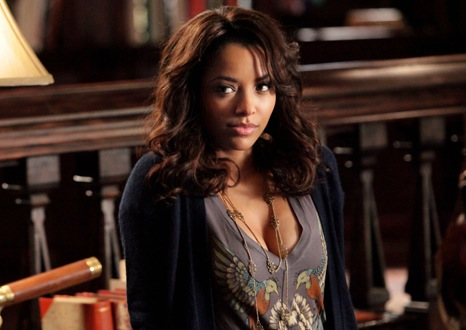 While Graham's Bonnie didn't even appear on "The Descent," we'll see plenty of this witch over the next few weeks. In the excerpts below, Graham gives us a glimpse of what's to come.

Will Bonnie ever learn of Lucca's secret?

Bonnie will find out very soon and it's going to get really messy. There's no clean way to go about this.

Talk about Bonnie's connection to Jeremy.
I love that it's a different kind of chemistry. Jeremy is the loving, supportive, innocent, solid love, while Luca is very much a big crush. Bonnie identifies with him in a way that she hasn't been able to with anyone else. For a while, I didn't even have a solid opinion about who she should end up with.

Spells keep taking a roll on Bonnie. Are you prepared for her to die one day?
They're definitely playing with Bonnie's mortality a lot. Which I love. It wouldn't be a great story if everything worked out perfect and everyone was safe whenever she did a spell. You have to show a character's weaknesses for people to identify with them. I never saw Bonnie as an all-powerful, indestructible person. Even though she has all this inner strength, I see her as this little girl who got caught in the middle... and it's about to get crazier for her in terms of her powers.

Read the full interview at Pop Wrap now.

Tags: The Vampire Diaries, Interviews, Spoilers
From Around the Web